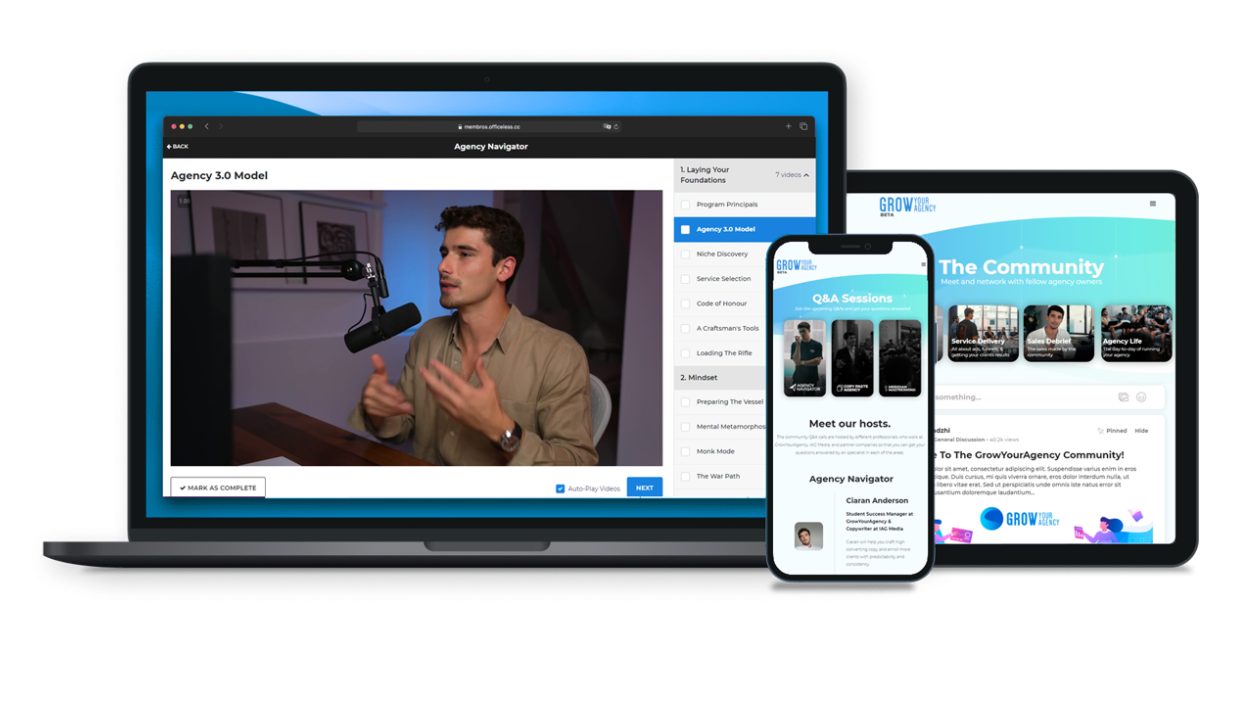 Iman Gadzhi – Agency Navigator
Who is Iman Gadzhi?
Iman Gadzhimagomedov claims to have started his first business at the age of just 17 and this allowed him to travel the world. At 18 years he dropped out of high school and claimed to have made over $300,000 in his first year of business.
He now runs several apparently successful social media marketing agencies based in London.
He claims to be making $50,000 per month so decided to launch his first course called Six Figure SMMA, this year he's launched Agency Incubator off the back of his success from his first course. He also claims to work with clients 1-2-1 for rather hefty hourly fees.
His company is IAG Online Services Limited.
Agency Incubator Impressions
The first noticeable thing is just how short this course is. Given the hefty price tag you're only getting access to, 42 videos of which 7 of these are those typical mindset videos to get you in the mood. I don't know about you but it should be fairly obvious you've got to have the right mindset to start a business.
Regardless, in Week 2 you'll get taught how to eliminate and focus, upgrading your health, breeding a circle of support and transcending your identity. It's clear Iman is no Tony Robbins, but this is complemented with a video on Brain Gym and Building 'Rome' brick by brick.
In fairness to the course this mindset module is over 4 hours long, but I think it's a little unnecessary.
Our Mission: The collapse of our education system as we know it.
We're on a mission to reform the education system by bringing our customers the best online business programs the world has ever seen. Period. We're here to help nurture & grow the next breed of agencies. Traditional education is outdated, invalid & overpriced. Our courses aim to deliver 10x the impact on your income for 1/100 of the price tag of a regular college education.
What you'll learn from Agency Incubator Course :
Week 1: Foundations 7 Lessons3:48:29
► The Course Code of Honour40:02
► A Paradigm To Carry Through31:06
► Understanding The Business Model45:27
► Your Service Offering31:28
► Picking Your Niche27:21
► Tools To 6-Figures24:14
► Laying The Foundation28:51
Week 2: Mindset 7 Lessons4:53:22
► An Intro To This Paradigm26:29
► Elimination & Focus48:54
► Upgrading Your Health32:52
► Breeding A Circle of Support63:00
► Transcending Your Identity56:58
► Brain Gym35:45
► Building Rome Brick By Brick29:24
Week 3: Systems & Processes 6 Lessons3:11:57
► Getting Paid16:51
► Pricing Your Services71:03
► Right Client vs Wrong Client36:15
► On-Boarding Clients21:55
► Accounting & Cashflow19:03
► Seamless Communication09:25
Week 4: Finding Leads & Setting Meetings 6 Lessons2:19:26
► The Fundamentals23:21
► Finding Leads & Qualifying19:40
► Storing & Organising Leads29:29
► Cold Calling32:32
► Cold Messaging22:43
► Targeted Loom11:41
Week 5: Sales 5 Lessons1:43:30
► Our Sales Sub-Communication19:26
► The Sales Process20:48
► The Sales Script35:39
► Objection Handling16:26
► Studying Our Approach & Re-Iterate11:23
Week 6: Service Delivery 7 Lessons3:18:41
► Social Media Management, Content & Growth17:46
► FaBo Ads – Rock Solid Foundation33:02
► FaBo Ads – Assembling Audiences33:06
► FaBo Ads – Going LIVE & Workflow22:31
► Becoming A Copywriting King53:04
► FaBo Ads – Ratcheting Up Spend & Holding Down The Fort20:01
► Facebook Ads For Local Businesses19:11
Week 7: Operational Supremacy 3 Lessons1:04:55
► Staying Top of Mind16:24
► Creating Your A-Team33:43
► Fattening Bottom Line
If this Author or Course helped you make money or more money. It is really worth it if you go and buy his/her course. Get feedback and help by his/her community. The Author support is much more valuable than the course itself.
If our Site

helped you

as well. A small Donation is greatly appreciated.