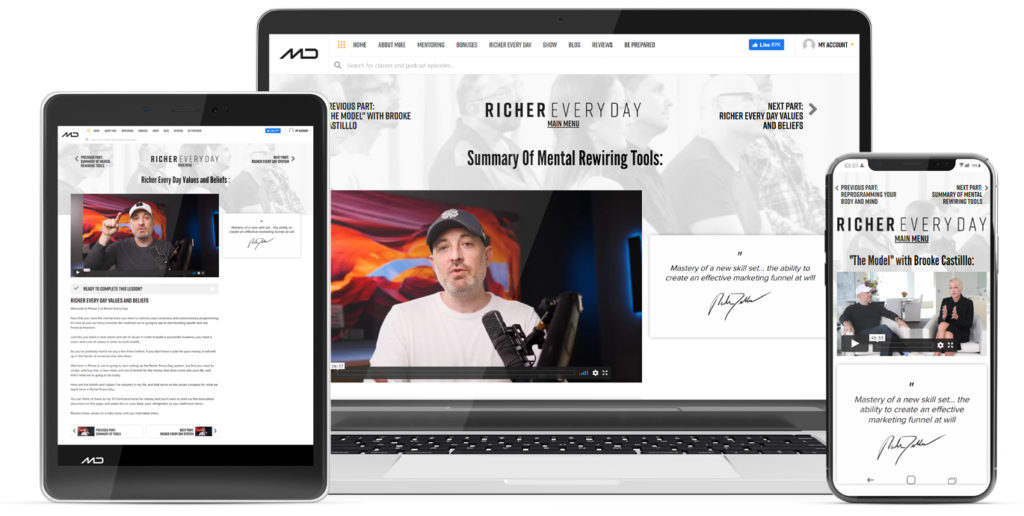 Mike Dillard - Richer Every Day (Updated)
Hey Mike Dillard here, and as I mentioned in my previous email, I recorded this video specifically for my audience and customers, because it is a pivotal transition point in my life and my career, and I'm going to be sharing some pretty personal stuff with you today.
So first and foremost, thank you for taking the time to watch, and thank you for your support the past few years…
As many of you know, I suffered a brain injury on June 13th 2018 that changed my life in an instant.
You've probably heard me share it with you in the past, but I want to give a brief recap of what took place, because that event and everything that happened after it, is what allowed me to learn what I'm going to be teaching you here today…
So for those of you who don't know what happened, I went from launching the Self Made Man platform, having fun with my friends, and racing cars on the weekend, to fighting for my life in a matter of weeks.
I couldn't sleep, I couldn't think, and my body was coursing with adrenaline and cortisol 24/7.
My entire life came to a halt. My body was shutting down, and I was completely unable to work.
This torture went on for a year before a doctor finally figured out that my home and my body had been infected with toxic mold. Anything above 5 is toxic, and my result was at 21,000.
If this Author or Course helped you make money or more money. It is really worth it if you go and buy his/her course. Get feedback and help by his/her community. The Author support is much more valuable than the course itself.
If our Site

helped you

as well. A small Donation is greatly appreciated.