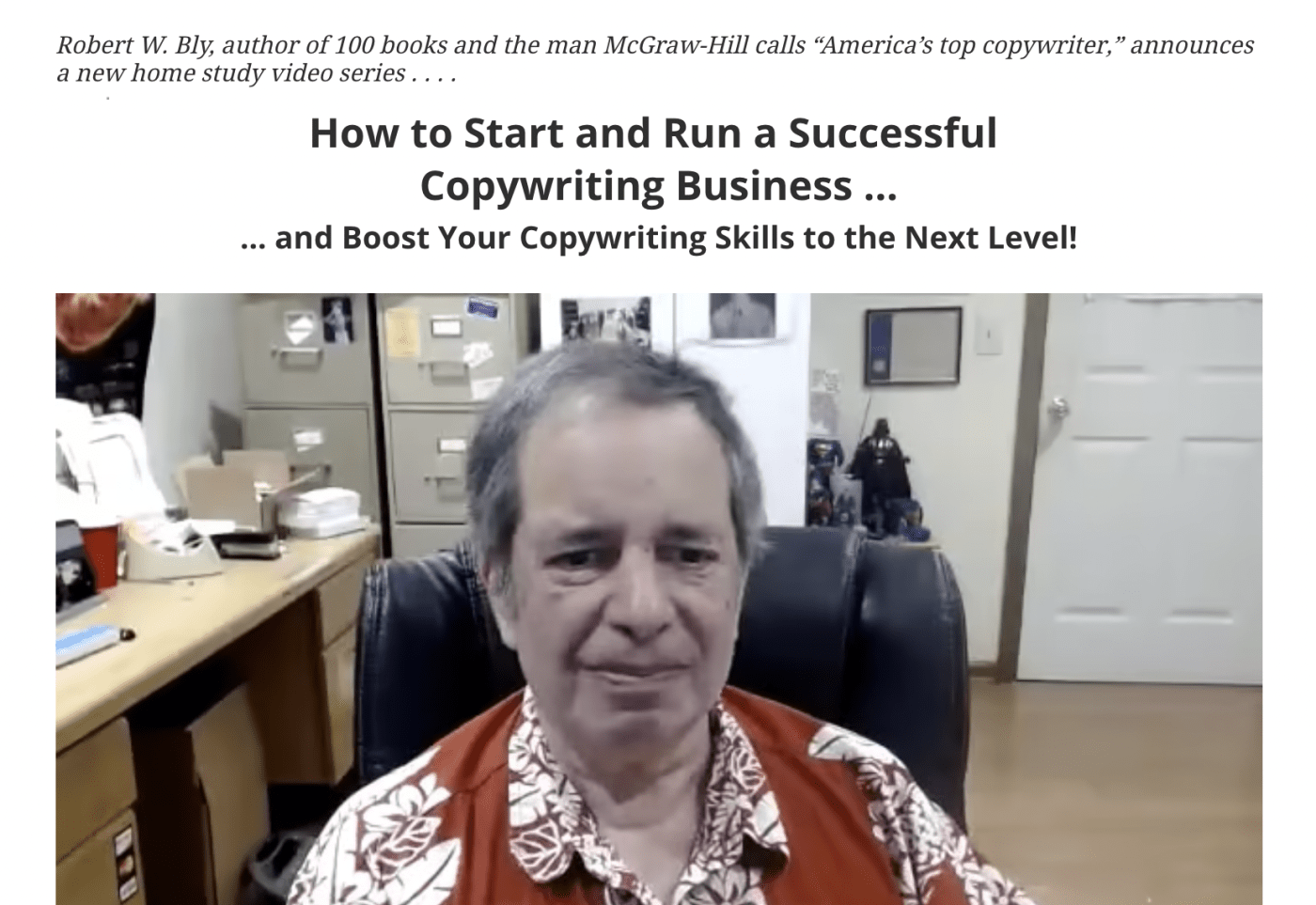 Robert W. Bly - Bly Copy Training Recordings 2022
WHAT YOU GET?
8 core course modules….
Core Course Module1: Overview
Build a 6-figure freelance copywriting business.
Become an A-level copywriter.
Get more clients than you can handle.
Double the results your copy produces.
Establish yourself as a recognized expert.
Core Course Module 2: Gaining Deep Prospect Knowledge
The S.A.P. formula for copywriting success.
15 ways to take a deep dive into the customer's mind.
Using the B.D.F formula for uncovering the core buying complex.
Clayton Makepeace's secret for making copy resonate.
Tap into these 17 fundamental human desires.
Core Course Module 3: The Motivating Sequence
The 5-step Motivating Sequence for maximum response.
11 additional formulas for making copy even stronger.
The secret of the Sea-Monkeys. 
Making outrageous free gift offers profitable.
The secrets of the Franklin Mint chess set.
Core Course Module 4: Differentiating Your Product
The 3-part Unique Selling Proposition.
12 ways to make your product superior and unique.
False logic and invent-a-term.
Robert Allen, Fran Capo, Mountaineer Mouse.
 The FAB Pyramid.
Core Course Module 5: Creating Irresistible Offers
4 elements of winning offers.
Position part of the product as the premium.
The magic of a dollar.
The 4 U's formula.
Pricing and guarantee offers that work
Core Course Module 6: Writing Copy That Sells
A copywriting lesson from Monty.
The 4-S formula for making your copy easier to read.
Why word choice matters so much.
The power of specifics.
A copywriting lesson from Texas Holdem.
Core Course Module 7: Prospecting
12 proven self-promotions for freelance copywriters.
A lead-generating letter that pulled a 10% response.
How to create a Copywriting Information Kit.
The MAD-FU formula for qualifying potential clients.
How to make your website generate a truckload of leads.
Core Course Module 8: Getting Prospects to Hire You
15 reasons why clients hire freelance copywriters.
9 steps for converting sales leads into copywriting clients.
What to do when a potential client ghosts you.
23 great copywriting niches.
9 common sales objections — and one good answer to each.
Bonus Course Module #9: Content Marketing
Converting free content requests into qualified sales leads.
How to easily enhance curated content.
Fill-in-the-blank worksheets for creating your content.
Tailoring your content delivery format to prospect learning mode.
7 proven formulas for writing attention-grabbing content titles.
Bonus Course Module #10: Websites
Dual-appeal home pages.
The 2 things that must be on your website.
Choosing your domain name.
Popular home page layouts.
 SEO.
Bonus Course Module #11: Videos
Common video run times and script word length for each.
9 tips for writing video sales letters.
The power of demonstration videos.
Problem/solution videos.
 Using educational videos to help sell your product or service.
Bonus Course Module #12: Building Your Copywriting Business
The 7 key elements of freelance success.
5 ways to deliver extraordinary client service.
 How to retain good clients for years—even decades.
The ABM method of getting all the new clients you want.
4 secrets to a long and prosperous copywriting career.
If this Author or Course helped you make money or more money. It is really worth it if you go and buy his/her course. Get feedback and help by his/her community. The Author support is much more valuable than the course itself.
If our Site

helped you

as well. A small Donation is greatly appreciated.