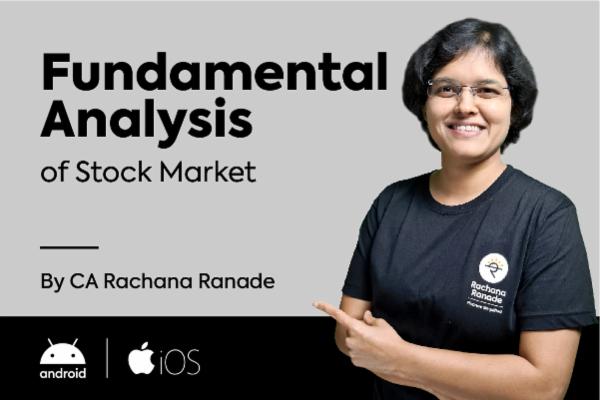 CA Rachana Ranade - Fundamental Analysis Course
I have designed this course for those who wish to learn "How to Pick the right Stocks" in the most systematic and practical way. It does not matter if you are from a non-finance background, whether you are a Student, Engineer, Doctor, housewife, etc.
This course has helped more than 2,000 learners and I am confident that after completing this course, you will be able to confidently analyze and invest in Share Market.
The course has 11 lectures, each close to 1.5 hrs. Even if you watch 1 lecture every day which is recommended, you will be able to complete the course within 11 days.
In this course, you will learn 40+ concepts of the Stock Market in just 11 days.
Illustrative List of topics covered: Standalone vs Consolidated Financial Statements, PE Ratio, Free Cash Flow, ROCE, EV/EBITDA, etc.
Device: Watch the lectures on your Android OR iOS device (Android mobile phones and Tabs, Apple iPhone and iPad). This version is not for PCs and Macs. The product can be used only on a single device. i.e the mobile device in which you first 'log in', will be registered and lectures can be viewed only through that registered device. 
Validity: Once you buy the course you will be able to watch the course lectures for 1 year. (365 Days)
If you wish to watch the lecture after the expiry of the product you will have to repurchase the same.
Views: You can watch all the lectures an unlimited number of times until the validity ends.
PAUSE/ PLAY/ CLOSE/ OPEN the lecture any number of times.
Language: English (Little bit of Hindi)
Syllabus: Course Syllabus
For any course-related queries, Whatsapp +91 9022196678
Courses are non-refundable.
If this Author or Course helped you make money or more money. It is really worth it if you go and buy his/her course. Get feedback and help by his/her community. The Author support is much more valuable than the course itself.
If our Site

helped you

as well. A small Donation is greatly appreciated.