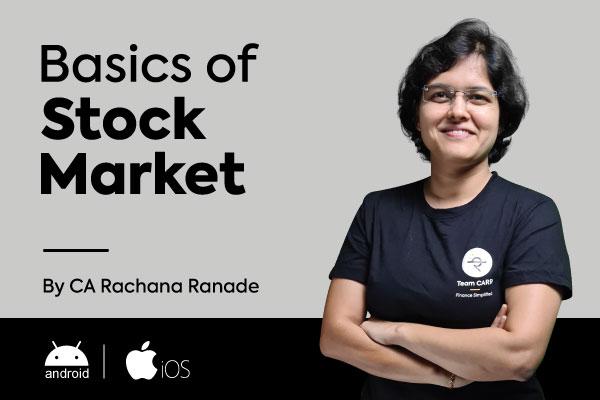 CA Rachana Ranade - Basics of Stock Market
I am sure you might have come across jargons like NIFTY, SENSEX, MCap, Short selling, IPO and so many more. These concepts seem scary but are actually very easy to understand if they are taught in a practical manner with loads of examples. This course contains 60+ concepts that are helpful for beginners and it is also useful for learners from a non-finance background. 
Busting the myths about the Stock market
How to analyse an IPO?
How to use Money Control?
BSE vs NSE
Types of Orders
Short Selling
Circuit filters
Contract note practical
Market Capitalisation
Nifty Composition & Calculation
Pledging of Shares
World Indices
Impact of Elections, War & other Global events on Stock Market
Basics of Fundamental Analysis
Basics of Technical Analysis
How should I start investing?
This will be a recording of an in-class session. So, you will surely get a feel of learning in a lively environment in spite of learning online!
Additional Benefits:
Along with the precise knowledge, you will get the following benefits.
Certificate (For certification, it is mandatory to complete the course and secure 60% Marks in the MCQ test)
Email/ WhatsApp support to clear your doubts.
Instructor Information:
CA Rachana Ranade "Naam to suna hi hoga :D"
CA Rachana is one of the top finance educators in India with 13 years of experience in teaching stock market, personal finance, and auditing in funny and lucid language. Teaching concepts regarding the stock market to non-finance students is her speciality. Rachana has simplified financial knowledge and has an enviable 3.5M followers on YouTube and 1,56,000 active learners on her website.
Device Requirment For Android And iOS Learners
Device: Watch the lectures on your Android OR iOS device (Android mobile phones and Tabs, Apple iPhone and iPad). This version is not for PCs and Macs. The product can be used only on a single device. i.e the mobile device in which you first 'log in', will be registered and lectures can be viewed only through that registered device.
Terms and Conditions :
All the lectures will be valid for 365 days with unlimited views from date of purchase
If you wish to watch the lecture after the expiry of the product you will have to repurchase the same.
It is a single device product. ie. It can be played only from the registered device.
This is a single screen product ie. It cannot be screen cast on any other device like a projector or television.
Lectures cannot be viewed on Mac / Windows PC
If this Author or Course helped you make money or more money. It is really worth it if you go and buy his/her course. Get feedback and help by his/her community. The Author support is much more valuable than the course itself.
If our Site

helped you

as well. A small Donation is greatly appreciated.