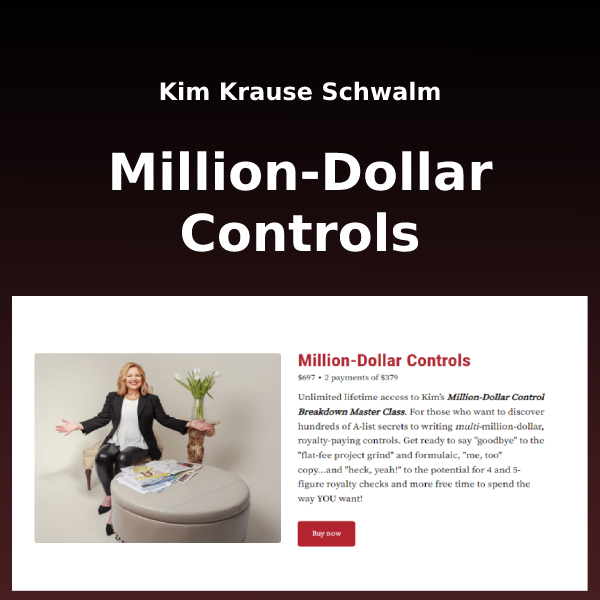 Kim Krause Schwalm - Million-Dollar Controls
My exclusive Million-Dollar Control Breakdown Master Class gives you every secret…every strategy…and every tactic I used to produce six of my most successful, longest-running controls
Now even complete newbies can get "A-list good" far faster, without relying simply on hard work and determination (you'll still need plenty of both…but this is like having the keys to the kingdom handed to you!)
Read on to find out all the details…
Dear Friend,
I'll never forget the first time I finally got a chance to write my first acquisition promo with royalty potential.
I'd been a freelance copywriter for a few years, after walking out of my $100k-a-year marketing executive job at one of the industry's biggest direct response companies.
I'd been getting by writing mostly emails, newsletter inserts, subscription renewal mailings, and other shorter, flat-fee copy.
The truth is, I pretty much took whatever kind of copywriting gigs came my way…writing a "space bag" self-mailer for an informercial agency…a museum fundraising mailing for a non-profit…or sales letters for somewhat questionable weight loss or male potency supplements.
These gigs helped keep the money flowing in to replace my six-figure income. It was like getting paid to learn. What's more, these gigs gave me valuable experience, along with samples to show potential clients.
Yet what I really wanted was to get into writing those long-copy magalogs in the health and financial space that kept filling up my mailbox…ones that Phillips Publishing, my former employer, as well as companies like Boardroom, Agora, Rodale, and others were sending out by the truckload each and every week.
I realized early on I'd need to learn how to write royalty-paying copy to escape the "flat-fee project" grind.
That's because I knew that's where the real money would be made from doing freelance copywriting…NOT by churning out flat fee-project after flat-fee project until my aching fingers practically bled on the keyboard.
I'd been doing that for two full years. And while I was already making at least 50% more than I was in my 6-figure marketing position, I knew the sky would be the limit if I could master the secrets of writing long-form, royalty-paying copy.
Then I FINALLY got my first big break!
When I got my first big break about two years into freelancing…and snagged a client who hired me to write a magalog with royalty potential…it was like my copywriting dreams were coming true.
Except they quickly turned into my worst nightmare.
That's because on that first time at bat, with copy my client loved and decided to mail, my promo BOMBED. Badly.
Luckily, I was able to convince my client to give me another shot. Better yet, I was able to identify and learn from my mistakes…and make my next attempt a huge winner!
In fact, it ended up mailing as a control for 10 years, and paid me hundreds of thousands of dollars in royalties along the way.
I'll tell you more about this multi-million-dollar control in a moment…and how you can discover the valuable lessons that came out of the initial failure that led to it.
But my copywriting "learning curve" didn't stop there.
I'll never forget celebrating becoming the first female copywriter to get a Boardroom control by opening up a bottle of "La Grande Dame" champagne and sharing it with friends!
For the next several years that followed, I had my share of huge successes—and a few more bombs. Through the school of hard knocks (and celebrating the big wins when they happened), I started to figure out what worked best…and what to avoid.
As a result, over the last 20+ years I've uncovered hundreds of secrets to writing strong, irresistible, high-converting copy…and getting "A-list good" fast!
Your chance to see how I applied my very best copy tactics and strategies to creating some of my biggest winners.
While I've shared many of these strategies and tactics in my copywriting trainings and courses, until recently I had never shown them applied step-by-step to some of my most successful, longest-running controls.
Now in my exclusive, just-released master class, I'm revealing these closely-kept and, in my case, hard-won A-list copywriting secrets to you.
I'm calling it my Million-Dollar Control Breakdown Master Class, and it's unlike any copywriting training I've ever done or seen before.
In this one-of-a-kind master class, I'm revealing every secret…every strategy…and every tactic I used to write six of my most successful and longest-running controls.
And while I'm referring to these promos as million-dollar controls, you can rest assured these are multi-million-dollar secrets.
In fact, these controls I'm breaking down have made my clients hundreds of millions of dollars over the last 20+ years…and millions of dollars in fat, juicy royalties for me.
How I freed myself from the "flat-fee project grind"… and how YOU can, too!
This steady flow of passive royalty income that keeps rolling in, in some cases, for 8 or 10 years since I originally wrote a promo, has freed me from the "flat-fee project grind" and made life far more enjoyable and fulfilling.
I'd take my kids to school, stop off at Starbucks for a coffee, head home and work for maybe 5 hours…including a lunch break, sometimes meeting a friend at a restaurant. Then I'd get my kids in the afternoon, put on my "mom" hat, and call it a day.
Being booked up months in advance with clients beating down my door gave me way more time to hang with my kids. I'm so grateful as I can never get those precious hours back!
I had to keep pinching myself that I'd found that elusive career-life-family balance…all while earning more than most doctors!
But even better, I enjoyed the flexibility of taking whatever time I wanted to take off, whenever I wanted to…in part because I had multiple 4- and 5-figure royalty checks coming in each month. So I'd be getting paid whether I worked or not!
Being able to work when I wanted gave me the flexibility to take off if I had a sick child home from school or who had to see the doctor…never have to miss a school play or a kid's game…help out an elderly parent when needed…get involved in volunteer activities and serve on the Board at my children's private school…and much more.
It also meant I could pursue one of my greatest passions: travel. Not just taking off for multiple conferences or masterminds each year, but exploring new places or taking relaxing trips with my husband and family.
My royalties from these six controls alone helped keep money flowing in while I wined and dined around the world!
Here I am feeling quite relaxed after 10 days in Italy and not doing a lick of work—one of the many benefits of writing royalty-paying copy!
Every year since I hit my stride as a freelance copywriter, I've taken multiple vacations each year with my family.
We've taken our kids to places like Grand Cayman (twice), San Diego, Germany, Montana, Turks and Caicos, Paris, Barcelona, countless beach trips, and Italy (on 3 different occasions just in the past 5 years).
Plus, in 2019 alone my husband and I spent at least two months on various trips to destinations like Oktoberfest in Munich…Portugal…Switzerland…Anguilla…and beautiful Barolo and other areas of the Piedmont region of Italy (the wines and food there are among the best in the world!)
And I've done all of this without hauling my laptop everywhere and being chained to it. In fact, I generally don't do a lick of work when I'm traveling…yet even with more than two months' vacation time a year (and at least another month or so traveling to conferences and events), I still earn far more than I ever did when I had a J-O-B.
Sure, getting "A-List good" (and gaining the freedom that came with it) took me years of nose-to-the-grindstone hard work. I didn't have anyone take me by the hand and show me the way. There weren't any copywriting training programs back when I was starting out, aside from the occasional workshop at a Direct Marketing Association event.
I had to learn it all on my own…through trial-and-error, picking myself back up after falling flat on my face and figuring out what I learned from my failures…and after celebrating my successes, understanding what I did that made them work so well.
If this Author or Course helped you make money or more money. It is really worth it if you go and buy his/her course. Get feedback and help by his/her community. The Author support is much more valuable than the course itself.
If our Site

helped you

as well. A small Donation is greatly appreciated.