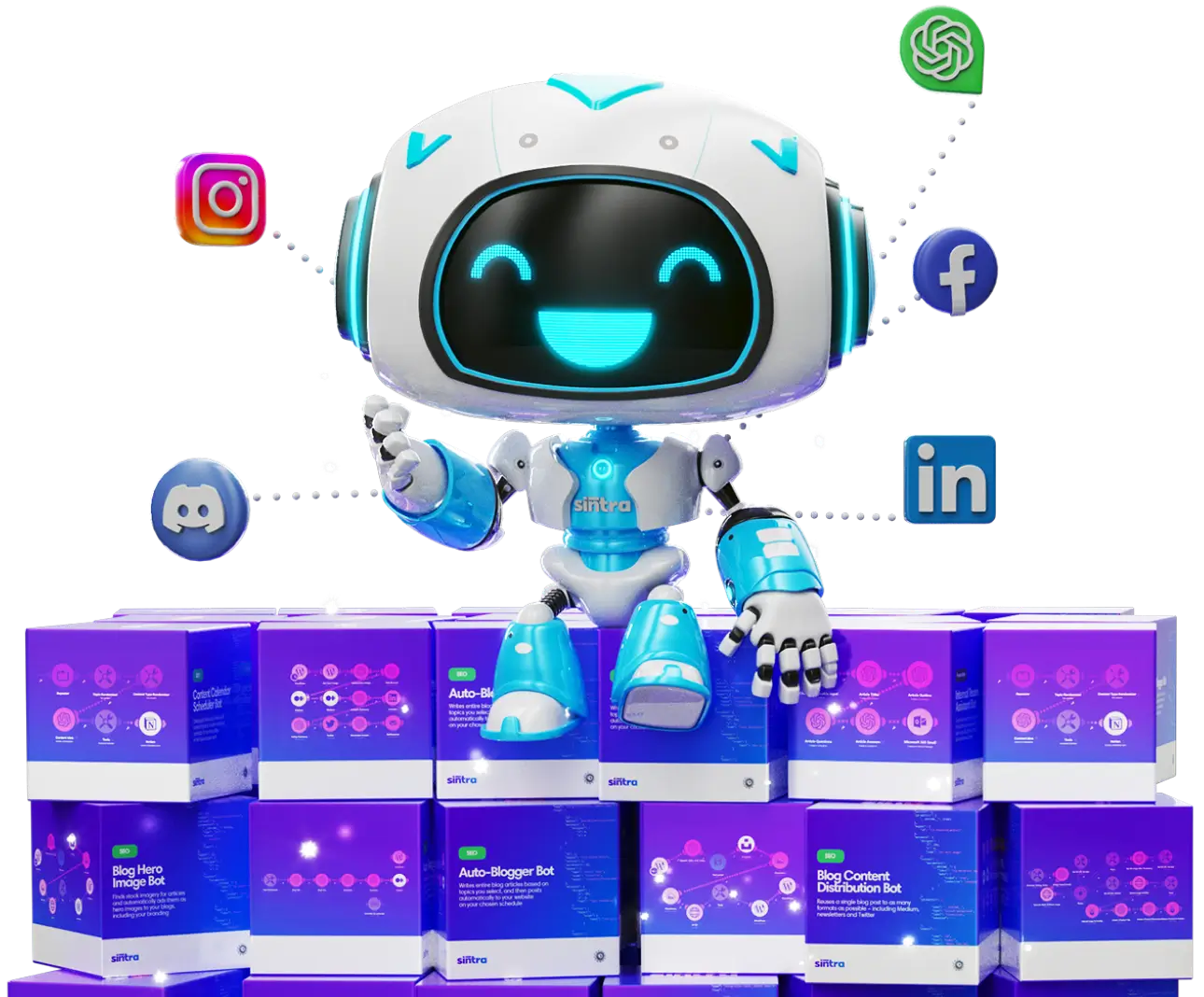 Sintra AI - Sintra Bots Max
Group Buy
Sintra AI - Sintra Bots Max 2024 Group Buy
Sintra AI bots are the most powerful and versatile automation tools on the market. They can automate any task, from customer support to content creation, and they can learn and adapt to your specific needs.
Unlock Autopilot ChatGPT. Forget Manual Work.
Sintra AI bots are the most powerful and versatile automation tools on the market. They can automate any task, from customer support to content creation, and they can learn and adapt to your specific needs.
Sintra Max Bundle Includes:
Over 30 Proven & tested ready-made Bots for you to copy & paste into your daily work routine.
Assistant Bots
Gain a competitive edge for your business with our advanced AI bot. Find competitors and analyze competitor website traffic, uncovering hidden opportunities and exploiting their weaknesses. Leverage AI to drive strategic decision-making, unlock growth potential, and propel your business to new heights.
Discover the ultimate dropship product finder bot by Sintra AI. Gain access to a curated list of hot, trending products for immediate selling success. Unlock Aliexpress links, customer reviews, and more to stay ahead in the e-commerce game.
Elevate your Discord server interactions with our powerful Discord Event Bot. Seamlessly automate response mechanisms and empower your community with accurate and relevant answers to their queries, keeping the engagement flowing effortlessly.
Supercharge your research capabilities with our LinkedIn Scraper Bot by Sintra AI. Unlock profound insights on individuals of interest by effortlessly analyzing their Linkedin profiles. Revolutionize your understanding with just a single glance.
Accelerate your website's SEO growth with our advanced Traffic Bot. Powered by AI, it crafts high-performing blog posts tailored for maximum impact using strategic keywords. Effortlessly streamline your content creation process and auto-publish engaging posts on your Webflow website.
Enhance your hiring process with our ATS Resume Checker. Our powerful bot by Sintra AI analyzes job applications, providing detailed insights on candidate eligibility based on your business requirements. Unlock a recommendation, scoring system, and more to streamline your hiring decisions.
Empower your ChatGPT experience with Sintra AI's cutting-edge Web-Scraping Bot. Seamlessly access and extract information from the web, amplifying your data acquisition and enhancing your decision-making. Gain unprecedented insights by incorporating real-time web data directly into your chosen input.
Simplify your research process with our revolutionary Article Scraper Bot. Capture book page images while our AI scans and comprehends the content, allowing you to receive concise and easily understandable summaries in plain language, enhancing your reading and learning experience like never before.
Harness the potential of our AI Art Prompt Generator by Sintra AI. Take advantage of generating personalized image prompts with ease. Explore a world of AI-generated images, unlocking limitless creative possibilities.
Stay on top of your emails effortlessly with our Auto-Reply Email Bot. From filtering specific emails to responding to all messages in your inbox, this personal email assistant keeps you organized and ensures prompt engagement with a seamless and efficient automated response system.
Sales Bots
Agency Client Onboarding Bot
Get short summaries about the company from Typeform and directly create a task in Asana with all the information needed.
This bot gathers all the responses from your Typeform and provides a brief analysis of what needs to be improved on your product.
Target Audience Generator
Supercharge your marketing strategy with our Target Audience Generator. Our AI-powered bot leverages your Google Maps search queries to generate comprehensive customer personas, providing you with invaluable insights to reach and engage your ideal target audience.
Get an edge with Sintra AI's new product launch bot. Streamline your processes by seamlessly uploading products from Google Sheets to your website and boost your productivity like never before.
Gain invaluable insights and enhance your website's performance with our SEO Site Analysis Bot. Experience a comprehensive evaluation and receive a concise summary highlighting all areas that require improvement for optimal results in no time.
Supercharge your sales efforts with our innovative Sales Letter Software. Harness the power of an algorithm trained on top copywriters, generating persuasive sales letters effortlessly through a simple input form. Enjoy the advantage of an outstanding conversion-inducing copy.
Take your merchandising to a whole new level with our revolutionary Product Image Generator. Powered by AI image generators, effortlessly create stunning merchandise imagery tailored to your subjects. Automated publication of your unique merch items to your online store is just a click away.
Streamline your lead generation efforts with our advanced Google Maps scraper. Automate email campaigns effortlessly using our powerful AI-driven bot. Reach out to potential clients on a daily basis, effortlessly.
Optimize your email outreach with our Email Bot powered by Sintra AI. Effortlessly scrape targeted emails from LinkedIn and automate personalized cold email campaigns. Unleash the power of ChatGPT to craft engaging messages on auto-pilot, saving you time and maximizing your efficiency.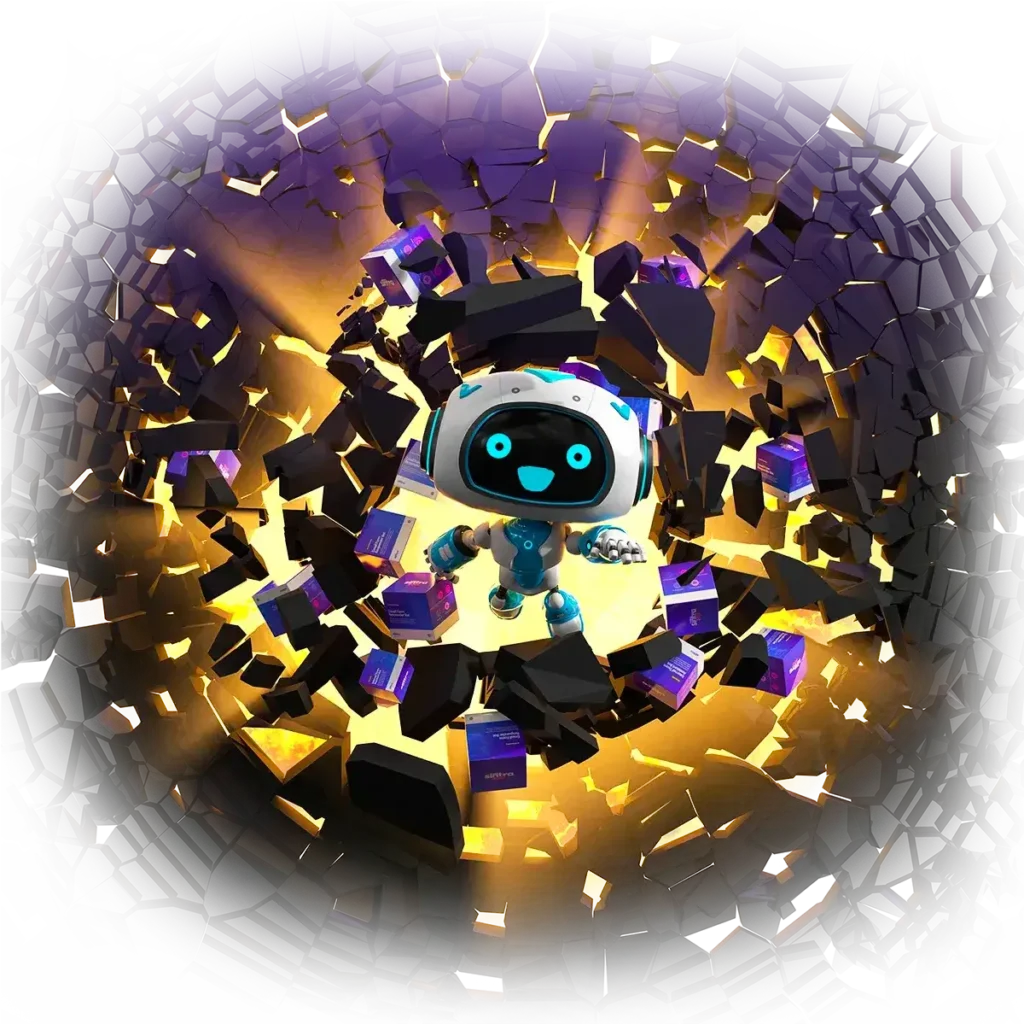 Marketing Bots
Reddit Bot That Posts For You
Save time and effort with our dedicated Reddit Bot that automates post creation and seamless uploading to the Reddit community. Let our AI-driven solution handle the task, making your voice propel you to viral fame on your desired subreddit.
Using keyword research tools, this bot writes entire blog posts based on top-searched keywords and sends them automatically to your Google Docs.
Elevate your website's SEO performance effortlessly with our Content Bot automation. Discover optimal keywords, tailor your content to current market trends, and unlock maximum visibility and engagement for your site.
Level up your LinkedIn presence with our powerful LinkedIn Bot. Select your preferred topics and empower the bot to craft engaging LinkedIn posts for you. Effortlessly customize, schedule, and maximize your reach to go viral among your professional network.
Enhance your Linkedin presence by automating engagement through RSS integration, allowing ChatGPT to post insightful commentaries on your behalf.
Instagram Auto-Comment Bot
Take your Instagram engagement to the next level with our Instagram Auto-Comment Bot powered by ChatGPT. Effortlessly manage and respond to comments, engaging with your fans on autopilot. Streamline your interaction and effortlessly nurture your follower community.
Facebook Auto-Comment Bot
Take your Facebook presence to the next level by effortlessly responding to comments and engaging with your fans on autopilot
Use AI Art Bot by Sintra AI, DALL-E and Stable Diffusion to automatically publish captivating art pieces. Elevate your creative expression with our automated platform, showcasing captivating, AI-generated artwork.
Elevate your email marketing game with our revolutionary Email Writer bot. Harnessing the power of the internet's best email and article examples, effortlessly craft engaging newsletters tailored to your specific topic, gaining the edge in your email campaigns.
Power up your content strategy with our Content Planner bot. Generate an endless stream of topic ideas and seamlessly blend them with various content types to effortlessly create a strategic content calendar for your future initiatives.
Youtube Description Generator
Level up your YouTube video game with our robust YouTube Description Generator. This innovative bot automatically creates compelling video descriptions for any channel, seamlessly sending them directly to your Google Docs for ultimate convenience and efficiency.
Copywriting Bots
Enhance your website's SEO performance effortlessly with our AI Keyword Generator automation. Discover the highest-performing keywords aligned with current market trends, and optimize your content strategy seamlessly to increase organic traffic and maximize visibility.
Support Bots
Elevate your brand's customer service with Sintra AI's Bot Support. Experience the seamless integration of an AI-powered chatbot, trained on your specific data, effortlessly automating your customer support email system. See your business thrive with efficient, personalized service and customer satisfaction.
Group Buy Information:
Source:

Original Seller
Price:

$197
Pledge

: $20
Pledgers Needed

: 10
Delivery:

Direct mega.nz link