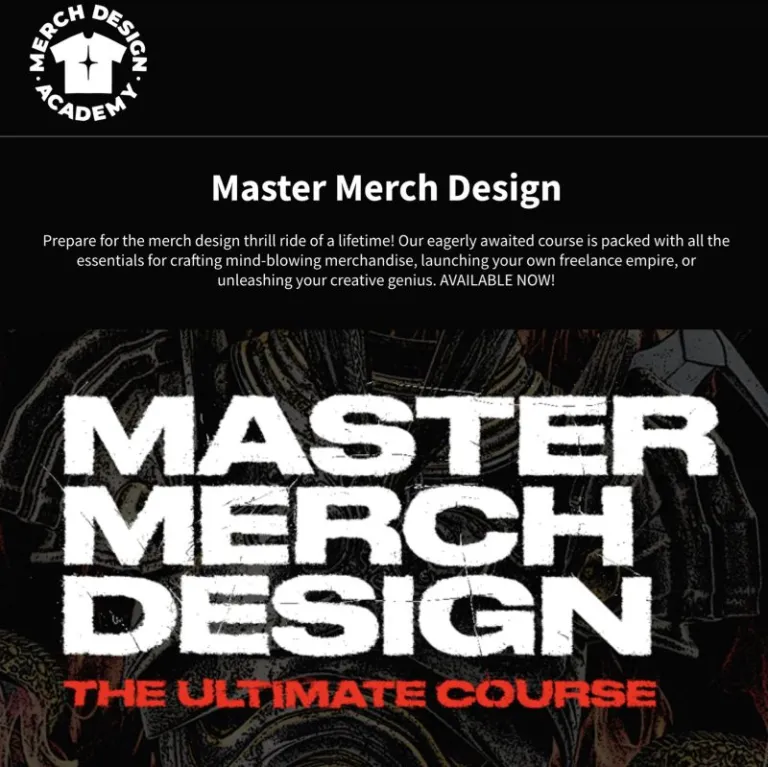 Charley Pangus - Master Merch Design
Prepare for the merch design thrill ride of a lifetime! Our eagerly awaited course is packed with all the essentials for crafting mind-blowing merchandise, launching your own freelance empire, or unleashing your creative genius.
Introduction
Welcome To The Academy
Community + Keys To Success
T-Shirt Mockups
Section 1: Mastering Photoshop

Photoshop Keyboard Shortcuts
Document Setup + Customizing Workspace
Menu Systems
Essential Tools (Pen Tool, Eraser, Shapes, Type + More)
Essential Tools Part 2 + Layer Styles, Layer Masks & Clipping Masks
Raster Vs Smart Object Layers

Chapter 2: Basic Design Principles

Grid Systems
Visual Hierarchy
Visual Hierarchy (PDF Download)

Chapter 3: Font Basics

Finding & Installing Fonts + Licenses
Customizing Type Using Layer Styles + Warps
Font Download

Chapter 4: Designing Basic Graphics

Design A Badge (Using Type On A Path + Layer Styles)
Create A Design Using Vector Graphics

Chapter 5: Texturing

Texture Using Custom Brushes
Texturing Using Images & Blend Modes
Texturing Using Displacement Maps
Texturing With the Vintage Plastisol Brushset With Zac Shiffer
Jpg Texture Downloads
If this Author or Course helped you make money or more money. It is really worth it if you go and buy his/her course. Get feedback and help by his/her community. The Author support is much more valuable than the course itself.
If our Site

helped you

as well. A small Donation is greatly appreciated.