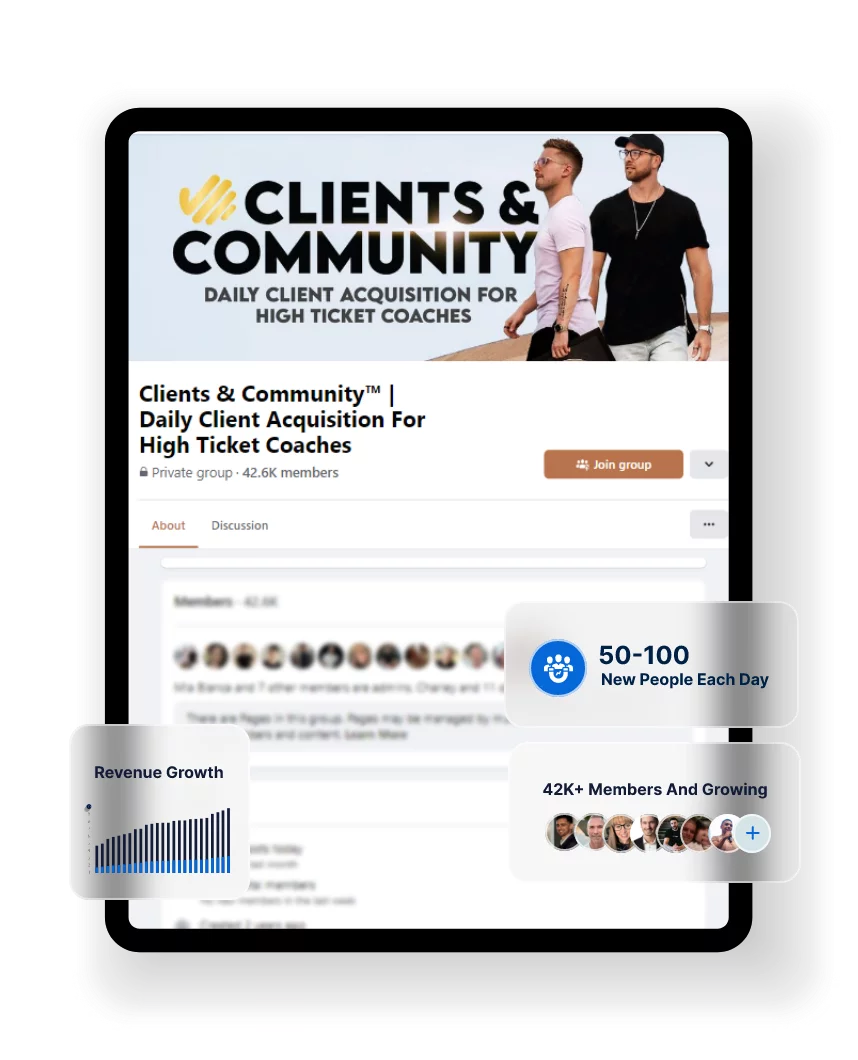 Clients & Community - Prominence Partnership Program
We've Enrolled 838 Clients & Made Over
$10 Million With A Single Facebook™ Group...
We started our group on January 6th, 2020…
In just 2 years, we've grown that group from zero to over 42,000 members….
and it continues to grow by 50-100 new people each day.
Plus, it's one of the most active & engaged groups in our industry.
Most importantly, it generates us clients, consistently.
Within 90 days of launching that group, we were pulling in over $100,000/
month in revenue.
Fast forward to today & we consistently generate half a million or more each
month.
And the best part?
Our method doesn't require us to post more than 2x each week…
We don't spend a single second of our day cold messaging prospects…
And we definitely don't use complicated funnels or fancy websites…
Even managing the group itself takes less than two hours/week.
Soon after we discovered how well this process worked inside our own business, we began teaching it to others through the Prominence Partnership Program.
Today, our clients have generated more than $100M with their Facebook™ groups.
Because of our group, our business is both simple and effective.
While our competitors (and maybe even you) struggle to fill their
calendars with pre-qualified leads ready to join their coaching program…
...we're fully booked with our dream prospects lining up to purchase our most expensive offers.
We turn away roughly 30 percent of qualified prospects because our acceptance standards are so high, thanks to having a full calendar of pre-qualified calls booked.
A simple client-getting group could be the difference between you staying stuck where you are now… and you building a business you can finally be proud of you.
After 2 years of working in the trenches with our own group & helping our clients grow some of the most profitable groups on the planet through the Prominence Partnership Program…
…we've created a new division of our company, where we can ethically guarantee you…
You'll make, at minimum, $30,000 with your Facebook™ group in the next 90 days or less (or we'll continue working with you 1-on-1 for free until you do)…
If this Author or Course helped you make money or more money. It is really worth it if you go and buy his/her course. Get feedback and help by his/her community. The Author support is much more valuable than the course itself.
If our Site

helped you

as well. A small Donation is greatly appreciated.