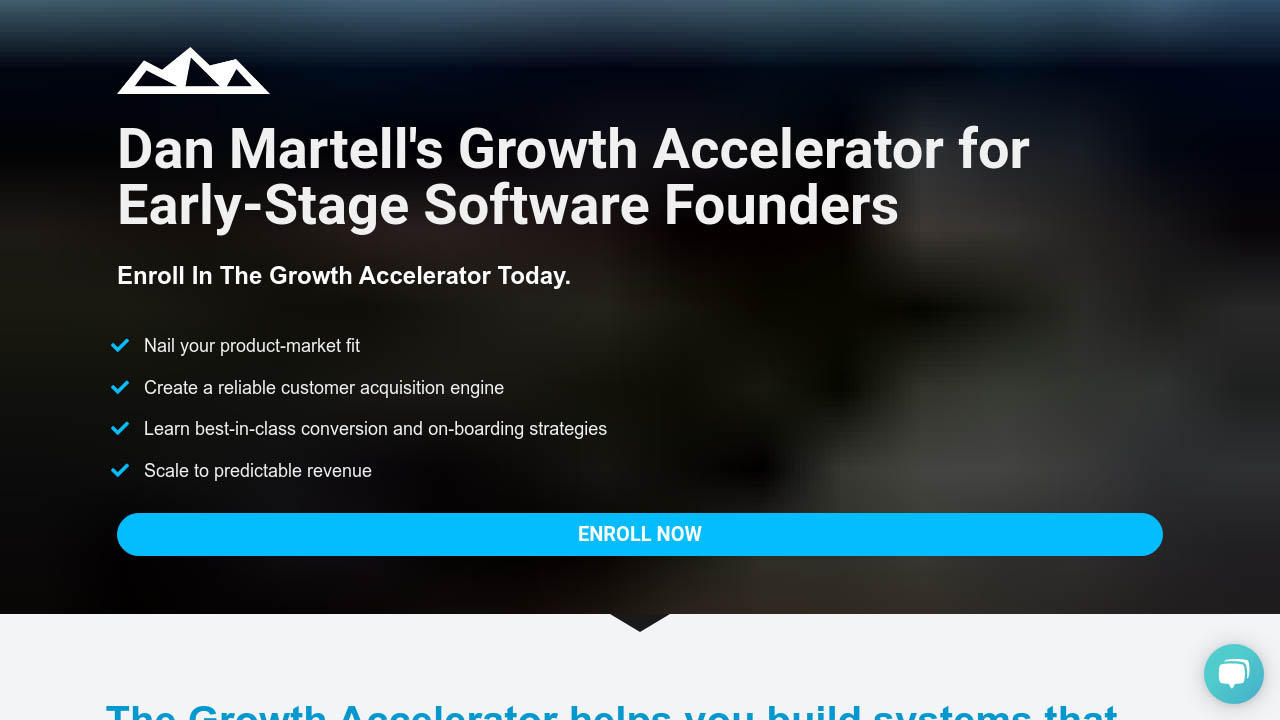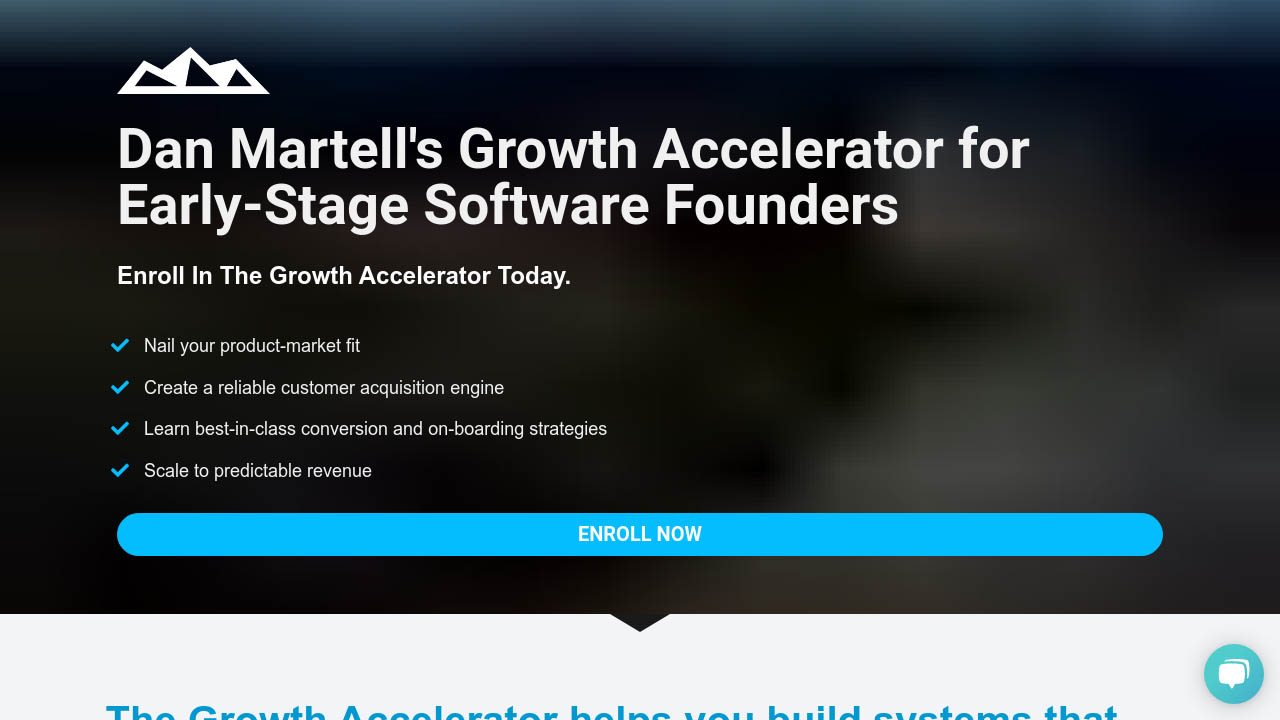 Dan Martell – 8 Week Growth Accelerator For Early – Stage Software Founders
The Growth Accelerator helps you build systems that will get you more customers faster and set you up for scalable growth.
If you are in the early stages of building a software company (<10k MRR), and you are looking for the tools to find your product-market fit, nail your messaging, build a repeatable customer acquisition strategy and a scalable sales & onboarding process… this is the program for you!
This is THE most comprehensive and detailed program I offer when it comes to starting, growing and scaling a technology company.
The Growth Accelerator Outline:
Week 1: Nail Your Niche & Authority Site (solve the right problem for the right customer)
Week 2: Content Funnel Blueprint (system for repeatably building authority)
Week 3: Winning Webinar
Week 4: Partner Playbook (bring the right people in at the right time)
Week 5: Paid Ads Funnel, New Lead Sequence
Week 6: Trial Conversion Emailer, Activation Builder (activate new trials for customers)
Week 7: Product Demo Funnel & Script (create a scalable sales process and rock your demos)
Week 8: Scale The Team
ENROLL NOW
In Addition to the 8-Week Program,
the Growth Accelerator Also Includes:
Idea To Exit – Business Foundation Program
Throughout 6 Training Modules, you'll learn advanced strategies that you can take at your own pace, and have access to for LIFE.
Each module is 1-2 hours of training delivered by me and includes worksheets and journaling activities that you can complete at your own pace, anytime.
($2,997 Value)
Monthly Live Coaching with Dan
One 60-min Coaching Session / month. Starts with a "10-min tactic" followed by an open session with members to review all challenges, frustrations and get critiques of any outputs (e.g. marketing site, product roadmap, sales process, etc.).
($4,997 Value)
13 Pre-recorded Coaching Calls
During these calls, we dive deeper into each module and answer questions that have come up for past students while helping move them passed their sticking points. I walk entrepreneurs through specific solutions to their biggest challenges when it comes to ideation, development, marketing & scaling their software companies.
($4,997 Value)
Enroll Today And Get These
Business Building Bonuses:
2 x Tuition Waivers to Growth Stacking Summit LIVE Event
This action-packed 1 day event is where you'll learn my latest strategies and secrets when it comes to marketing & scaling a SaaS Business.
($1,997 Value)
The Authority Engine
During this 5 session training, you'll learn how to create a marketing system that produces a year's worth of content in 6 days following my Produce -> Publish -> Promote framework.
($997 Value)
Business Freedom Program
Learn the 3 D's of Freedom to give yourself freedom as an entrepreneur following my framework (Documentation, Disconnect, Delegate).
($1,497 Value)
Idea To Exit Live Seminar Recordings
You'll receive lifetime access to this 3 day training where we go deeper into the psychology of an entrepreneur, the frameworks to think strategically and the best way to fund your startup.
($2,997 Value)
SaaS Expert Interviews
You'll receive access to over 10 expert interviews with Founders of Technology (SaaS) Companies who are doing big things, and making an impact with their companies.
($997 Value)
Access to my Private Online Community for my Coaching Clients
Expand the power of your network and build relationships with 300+ like-minded entrepreneurs.
Have questions about this process that other group members can't answer? You can ask ME any questions directly in the group!
(PRICELESS)
ENROLL IN THE GROWTH ACCELERATOR NOW
30 Day No Hassle Guarantee
What do your next 8 weeks look like? Seriously.
If you're on this page it's because you're looking for something to finally deliver the results you're after.
Until you give the Growth Accelerator an honest shot, you'll never know what your next 8 weeks can mean for your family's wealth (and personal impact).
I promise that over the next 8 weeks your schedule will look radically different as you dive into the Growth Accelerator Program.
If this Author or Course helped you make money or more money. It is really worth it if you go and buy his/her course. Get feedback and help by his/her community. The Author support is much more valuable than the course itself.
If our Site

helped you

as well. A small Donation is greatly appreciated.