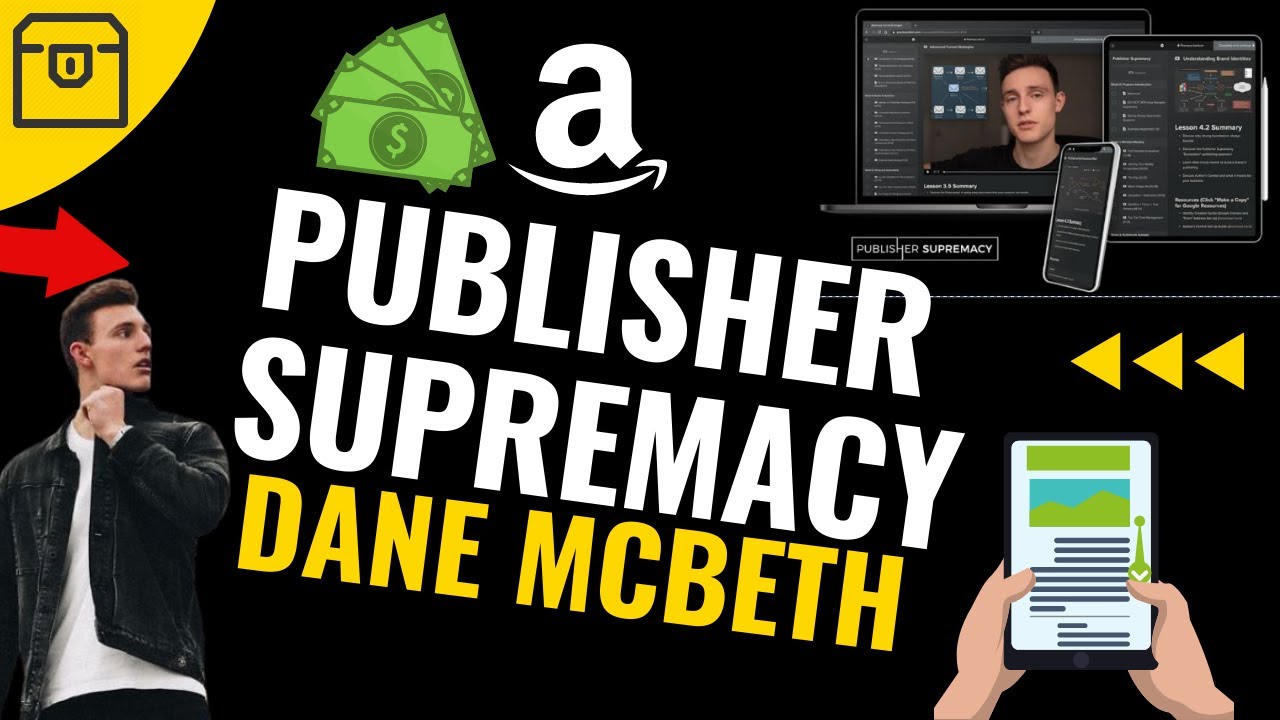 Dane McBeth - Publisher Supremacy
Publisher Supremacy is a course on creating ebooks and selling them on Amazon. It was released recently along with other courses covering the same topic.
For whatever reason, it seems like this business model is becoming more popular. It is a legitimate business model that can be successful for some people.
Publisher Supremacy is broken down into seven weeks of training and comes with a bunch of bonuses.
These are all the things you get:
Week 1: Mindset Mastery
In the first week, you learn how to develop a successful mindset as a publisher. This training is a little boring but only a small portion of the course.
Week 2: Audiobook Autopsy 
The second week will be spent learning about audiobooks. You'll get to look at well-selling ebooks and you'll learn about Amazon's audiobook platform called Audible.
Week 3: Top Tier Book Transformation
This week, you will learn how to create your ebooks. You will also look at various ways to market them and how you can compete with the big publishing houses.
Week 4: Books To Business
This is not about writing a single book or getting a one-time hit. The goal here is to create a full-time income through publishing books. This is where you'll learn how to do that.
Week 5: Hiring And Automating
You'll eventually need to hire employees to handle the daily tasks and automate some of them. Week 5 teaches you how to do this.
Week 6: Building Your Ecosystem
Week 6 encourages you to scale your business even further. Here you will learn how to do so.
Week 7: Establishing A Brand Presence
Increasing your profit by building a brand will help you make more sales. This week's program focuses on building your brand.
Bonus 1: The Royalty Starter Kit
Bonus 1 shows how to make DIY and activity ebooks specifically. This method is completely free.
Bonus 2: 100+ Worksheets And Resources
Here you'll find a set of resources and templates to assist you in getting started.
Bonus 3: Shopify Shortcut Modules
Bonus 3 will teach you how to work beyond Amazon and how to build a Shopify website.
Bonus 4: DFY Emails And Automations
There are many ways to market your business and email marketing is one of them. Bonus 4 provides sample emails that you can use when contacting potential customers.
Bonus 5: Supremacy Book Quality Check
Every month you can send Dane your work to be reviewed and to receive feedback on how to improve.
Private Facebook Group
Additionally, you can join a private Facebook group to interact with other members and get answers to questions.
Bi-Weekly Coaching Calls
Lastly, you will be able to ask Dane questions directly twice a week in group coaching sessions.
If this Author or Course helped you make money or more money. It is really worth it if you go and buy his/her course. Get feedback and help by his/her community. The Author support is much more valuable than the course itself.
If our Site

helped you

as well. A small Donation is greatly appreciated.