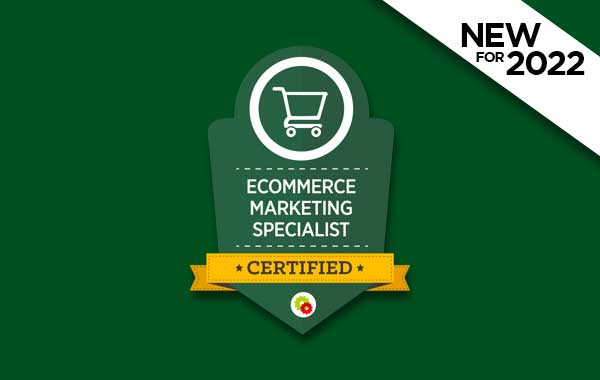 Digital Marketer - E-Commerce Marketing Master 2022
If you've been in e-commerce for any amount of time, then you've undoubtedly heard…"You're Only One Product Away".
It's the E-com info-industry mantra that is continually repeated over and over by countless trainers, coaches, and "consultants".
But I have a secret for you…
If you are an E-commerce marketer or store owner who is struggling to scale your store to 6-figures or more right now, read on…
The reason you need to pay attention to this page is…
E-com is the easiest & most profitable game going right now
Most of the information you're getting is just plain wrong.
I'll explain…
Most E-com'ers are constantly being bombarded with the next latest & greatest app or traffic channel.
Everywhere you turn you're being told you need to be using…
⛔ "influencer marketing"
⛔ "tiktok videos"
⛔ "video apps"
⛔ "the newest review app",
⛔ "affiliate marketers"
⛔ "snapchat ads"
… and the list goes on and on.
The fact is, if you are doing all these things, all at once, you're probably feeling spread pretty thin.
Not only is this distracting, it's also ineffective, and more commonly leads to overwhelm, confusion, and discouragement more than it does sales.
It's no wonder why recent stats show that 95% of all Shopify stores fail!?1
And this is at a time when you, and those other 95%, should be soaring.
Check this out…
After the global shutdown in the early part of 2020, U.S. E-commerce saw 10 years worth of growth in just 3 months! Talk about hyper growth.
And as many economists predicted, consumers' buying habits have stuck.
In fact, the trend toward online shopping is only continuing to skyrocket.2 (See the chart below for actual Y-o-Y increases and current conservation projections from Statistia)
As a matter of fact, by the year 2040, it's assumed that 95% of all retail purchases will be facilitated in some way by e-commerce.3
But, do you want to know the real crazy part??
All those billions of dollars in current online sales are still only 16% of all retail purchases.3
That Means This Party Is Just Getting Started!!
So, then why is it that almost all Shopify stores are failing when consumer demand is skyrocketing and the market is relatively untapped?
Well, because E-commerce marketers & store owners are being misguided and, as we say down here in Texas, "y'all are gettin' the sizzle, not the steak."
The truth is…
Success in the E-commerce World Doesn't Come From Trying to Push a Winning Product, It Comes From Applying a Winning Process.
Let me show you something…
Above is a backend Shopify revenue report for a T-shirt company called Blackhare.
Until recently, their highest monthly revenue was a couple thousand dollars.
They struggled being just "another T-shirt shop" in a sea of Print On Demand stores.
But after focusing on a winning process over a winning t-shirt, their business EXPLODED.
In only a couple weeks of adopting this new approach, they were able to go from just a few thousand a month to well over $30k a month in a short period of time.
And this process isn't just for beginners, …
The above is the monthly revenue report for an established jewelry business that was plateaued at about $100,000 a month.
I know that sounds like a lot but their margins were paper thin and the owners were exhausted.
Yes, they had a high sales volume but their conversions were low, traffic costs were high, and they had no time for follow up so everything was focused on front end sales.
It was more like running on a hamster wheel than running a successful store.
After focusing on a winning process, they were able to increase margins, increase customer LTV, lower new customer acquisition and, as a result, were able to scale to over $300,000 a month PLUS do it with less stress and anxiety.
So What Is The Proven Process?
The reason that these E-commerce owners and marketers were able to turn their slumping stores into profitable powerhouses is because of a proven process called…
The E-Commerce 'Tree of Life'
The E-commerce "Tree of Life" is one of the core concepts to building a profitable, sustainable, and scalable E-commerce store.
This process is made up of 4 Key Pillars to success:
Pillar 1: The Roots – This is about establishing the foundational elements so your store can truly take root by determining the right offer to the right market with the right positioning
Pillar 2: The Base – This is your online store, which requires incredibly strong foundations to support your business. This is the 1st part of your business that is visible to the world. This is made up of your proven product pages, branded store front, and basic automations (like email) that are all tested and proven to convert your customers. (i.e. certain to bring your water to your roots!)
Pillar 3: The Trunk – This is your first traffic source that predictably leads to sales. It's the first customer acquisition channel that you master, which you can reliably depend on for sales. What's most important here is that you don't get distracted trying to get sales from 10 channels at once, before mastering one. Focus on only ONE branch until that is a repeatable and reliable source of sales for your business. ONE acquisition channel is enough to build a 6-figure, if not 7-figure business.
Pillar 4: The Branches – Once you have at least one sustainable branch to your business you can begin to build out additional acquisition arms ( or funnels) of your business. To go full bloom, you also don't need to depend on solely paid advertising channels. Your tree could include things such as pop-up shops, wholesaling, affiliate and influencer channels, and other profit centers for your business.
(The leaves are your profits when this tree grows in harmony)
If this Author or Course helped you make money or more money. It is really worth it if you go and buy his/her course. Get feedback and help by his/her community. The Author support is much more valuable than the course itself.
If our Site

helped you

as well. A small Donation is greatly appreciated.