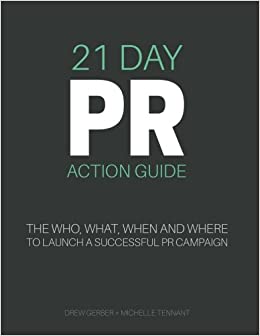 Drew Gerber, Michelle Tennant - 21-Day PR Action Guide
Launch your PR campaign in as little as 30 minutes a day for 21 days! Leading international PR firm Wasabi Publicity shows you how to create a strong foundation and learn the skills you need to land great media coverage. This straightforward, easy-to-follow guidebook will help you to answer questions like:
How do I stand out from the crowd?
What does it take to make a great first impression?
Who is my perfect media match?
Using a series of comprehensive microlearning modules, the experts at Wasabi support you in quickly and easily determining not only what it is successful PR firms do, but how to do it for yourself. Topics include:
Open Sesame: The Subject Line the Media Can't Resist
Who the Heck Are You?: Creating Compelling Bios
Learning the Interview Dance: Navigating Interview Questions
Just the Way the Media Likes It: Perfect Pitch Formulas
The quickest way to change the world is to change what people are talking about… and the fastest way to accomplish that is through great PR. When the media speaks, the world listens. Create the media megaphone you need to share your message on the world stage with a little help from the pros at Wasabi Publicity!
If this Author or Course helped you make money or more money. It is really worth it if you go and buy his/her course. Get feedback and help by his/her community. The Author support is much more valuable than the course itself.
If our Site

helped you

as well. A small Donation is greatly appreciated.