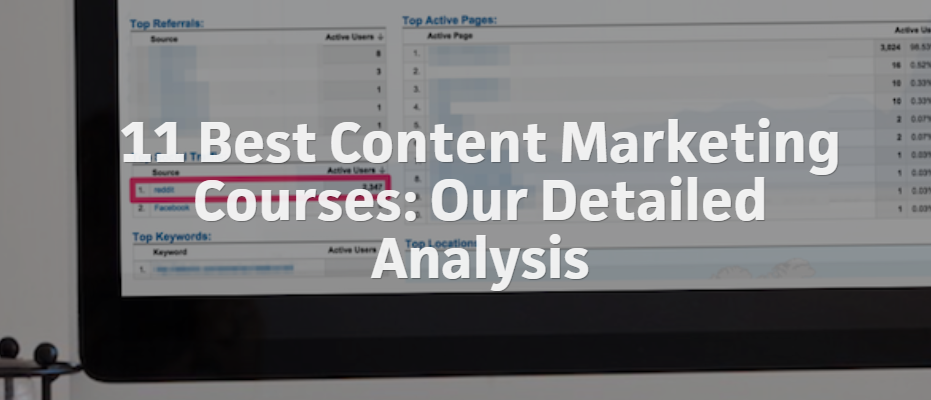 Grow and Convert - Customers From Content
The problem with most online courses about content marketing is that they're too theoretical. They teach high-level concepts, but they don't teach you how to actually do content marketing to grow your own business (or one that you work for).
For example, many of the courses we analyze below teach you things such as:
Search engine traffic is "free" traffic that keeps coming without you doing anything (True).
You should write about things your audience cares about (True).
Content can build authority (True).
What You'll Learn in Customers from Content
Customers From Content is a 6 module video course, fully online, that you can access from anywhere anytime you like.
Module 1 – Know Exactly Who to Target
Most content marketers don't have a deep understanding of who they're marketing to. This handcuffs them to producing crappy fluff content forever. After this module you'll have the skills to avoid this trap and level up your content.
We walk you through detailed examples of mirage content vs. high quality content and breakdown the difference
You'll immediately start understanding what makes good vs. bad content, and your creative wheels start turning
You'll learn how to narrow down and identify the specific customers for which you should generate content.
You'll learn our process for getting super deep on understanding the pain points of your best customers
You'll learn the specific user research tactics we use to get customer information
Module 2 – Creating Content That Stands Out
Here you'll learn our system for getting beyond "me too" fluff content (like listicles), and produce stellar, specific content that your ideal customers will bookmark, email to each other and share.
You'll learn the 6 content frameworks we use for ourselves and our clients
You'll know what each framework does and when to use it
We'll dive deep into our "sales funnel" framework so you'll know when to product bottom, middle, or top of funnel content and what each does
Watch us walk through specific examples and teardown of many content pieces in the lens of each framework
Learn how to connect Module 1 to Module 2 and apply your customer understanding to produce content better than competition
Module 3 – Content Promotion
This is where almost everyone struggles. Almost no one teaches this (well). You'll learn our system for content promotion that we've used get over 20,000 visitors in a month to this site and to generate tens of thousands of visitors per month to multiple client's blogs.
Learn how to research and identify promotion channels so you can use your time most efficiently
Watch Benji screencast through our community content promotion process, teaching you the nooks and crannies of finding and posting in online communities
Learn how to get influencers to share your content without being pushy or sending 100s of spammy emails (we never have)
Get our honest and detailed opinion of guest posting (we don't do much of it) and how best in integrate it into your strategy
Learn how we use PR as a promotion strategy, starting at the content ideation step, to dramatically increase the chances of getting coverage
Module 4 – Blog Conversions
Devesh has run blog conversion tests for sites such as Backlinko and corporate blogs with over 100,000 monthly visitors. In this module, he teaches what he knows about converting blog visitors, shares a starting plan you can adopt, and lays out a framework for you to optimize.
Should you nurture over email or just ask for a lead? Devesh shares how to use our spreadsheet model to know, with numbers, which route you should take.
Get the real truth on how well different calls to action on blogs convert so you don't have to inundate your blog with a million annoying CTAs (we never have)
We'll walk through actual examples of conversion strategies from different blogs so you can learn from them
When should you AB test? Devesh will share his experience and teach you when to worry (and importantly, not worry) about this.
Module 5 – How to measure the ROI of content marketing
Immediately stand out from everyone else by knowing how to attribute leads to content and calculate a cost of acquisition from content marketing.
You'll get access to our cost of acquisition spreadsheet calculator, only available to buyers of this course
We'll walk through how it works, how to use it, and multiple examples and scenarios
This knowledge will immediately put you in the top tier of content marketing knowledge, and let you convey to bosses, clients, and yourself how content marketing ROI compares to other channels
Without this ability it will forever be a struggle to convince the powers at be that content marketing is returning a great ROI, but with it you'll finally be able to
Module 6 – Building a Team of Writers
At some point, many marketers will want to scale their content production. This module will teach you how. We've tried (and failed) with multiple techniques, but after this module, you won't have to. You'll learn exactly what's worked for us.
Learn why a content marketing manager shouldn't be a writer and what they should focus on instead
Learn the pros and cons of hiring in-house writers, vs. a writing agency, vs. a team of freelancers, and why we prefer the latter
Learn how and where to find freelance writers
Learn our process for vetting freelance writers so you get the best
Learn how to pay and incentivize freelance writers so they continue to do great work over time
If this Author or Course helped you make money or more money. It is really worth it if you go and buy his/her course. Get feedback and help by his/her community. The Author support is much more valuable than the course itself.
If our Site

helped you

as well. A small Donation is greatly appreciated.