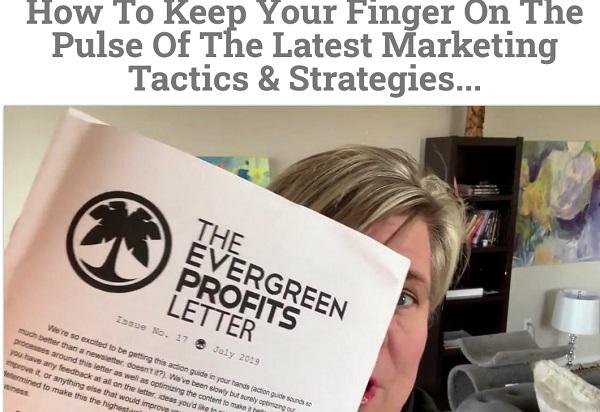 Hustle & Flowchart - Evergreen Profits Newsletter 2020-2021
How To Keep Your Finger On The Pulse Of The Latest Marketing Tactics & Strategies…
What Am I Getting With This Special Deal?
The Evergreen Profits Letter
This is a monthly newsletter that we'll deliver directly to your inbox each month. You'll receive actionable tips, strategies, and insights from Matt Wolfe, Joe Fier, and every guest that appears on The Hustle and Flowchart Podcast! You don't need to spend hours learning the latest strategies. Instead, turn to any page and you'll get a quick idea of a new marketing strategy to test. We only package up the best-of-the-best… no fluff or filler.
The Digital Episode Companions
Every note we've taken from our podcast episodes is available for EPIC members. Dive into step-by-step traffic strategies from Dennis Yu or Molly Pittman. Get the latest bio-hacking tips from Dave Asprey or money and investing advice from James Altucher. We've taken notes on over 200 podcasts with the smartest entrepreneurs on the planet and turned them all into 5-minute reads.
Thriving In Uncertain Times
We interviewed 12 business leaders about how to thrive in uncertain times like today. Roland Frasier, Rich Schefren, Aaron Fletcher, Dennis Yu, Curt Maly, Molly Mahoney, Shaina Weisinger, Ryan Levesque, Bob Serling, and Josh Bartlett all share what they're doing and what they recommend other entrepreneurs should do in a post COVID-19 economy.
What's Included:
Simple Traffic Hacks
What if you could drive an extra 1,000 visitors per week to your site… Would that improve your business? In this 4-part video training, you will learn 4 of our favorite free and inexpensive traffic strategies that no one else is talking about. Implement what you learn and you'll see a huge boost in traffic within a week (and they each only take a few minutes to do).
The Traffic Strategies Taught Include:
1.The Community Hijacking Strategy
You'll leverage other communities online and provide value in a unique way that gets attention and drives consistent traffic for YEARS. This only takes a few minutes, it's a consistent method that brings very targeted people into your ecosystem.
2.The Influence Amplification Strategy
We'll show you how to locate, outreach, and present yourself in front of extremely relevant audiences, while also being propped up as an expert to the audience. This is THE most profitable marketing strategy we use and make on average $1k every single time we implement it.
3.The One Sentence Ad Strategy
We'll cover a super simple ad type that doesn't take fancy creatives, tons of time, or a high budget. Watch how we create a simple ad that drives extremely targeted people to an offer. This routinely generates clicks at $0.35 and less.
4.The Search & Recover Strategy
This is our favorite and one that can be automated to bring in consistent leads and sales for your business. We show how to leverage people's actions online and present them with very relevant content and offers. This is how you sell without looking salesy!
The PodHacker Playbook
We have been podcasting ourselves since 2010. Some people have even referred to us as "veteran podcasters." However, we don't treat our podcast like any other podcaster does. We've turned a podcast into a very lucrative and fun business.
In this playbook, you will learn how to build, amplify, and monetize a podcast in ways that 90% of podcasters don't even realize exist. This will be the underground playbook that the future "biggest podcasters" will swear by.
For good measure, we've also rounded up systematization, growth, and monetization strategies from some of the current most successful podcasters in the world and curated the notes from them for you.
Learn the BEAM Method™ to podcasting:
B – Build a podcast and system that runs practically on autopilot
E – Engage with your audience and all of your show's guests
A – Amplify the reach of your podcast and get your ideal clients listening
M – Monetize the show with unique strategies that no other podcasters use
Modern PR Secrets + Checklists
Have you wanted to leverage PR in a big way but don't know how to go about it?
Times have changed big time and to get the most from public relations, you need to know where the trends and opportunities lie.
That's why we brought in our friend and go-to PR expert, Lisa Buyer. She walks you through the pillars of a modern, digital PR strategy that anyone can leverage. She covers topics around these types of PR and more: SEO, Social, Brand, Visual, AR/VR, Audio, and other PR strategies.
This is how you blow up your brand… and with Lisa's training and power checklist, you'll have everything you need to succeed with PR!
Special Guest Course By: Lisa Buyer
Become A Repurpose Ninja
Whatever content you are currently creating, you're not getting as much use out of it as you could be. Every blog post, every podcast and every video can be reused in different ways and spread across the internet even further, giving you the ability to drive more traffic, generate more opt-ins, and make more sales.
This video course will walk you through the various ways that you can repurpose your content, why you should be doing it, and offers step-by-step tutorials on how to go about actually converting your existing content into multiple more pieces of content.
Special Guest Course By: Shaina Weisinger
Dialing In The Design Of Your Site
We all know how important it is to have a website that looks professional and paints us or our businesses in the best light. However, so many people fail to focus on the ultimate goal of having that website… To make more sales.
In this special intensive, we dive into how to optimize your site to make more sales. You'll learn the most effective strategies to capture leads or to get visitors to take action on your site. You'll learn best practices around what's currently working now and mistakes to avoid.
We also dive into real-time case studies where we analyze some of the best converting websites as well as offer real life advice on sites that aren't quite optimized to their fullest potential yet.
Special Guest Course By: Greg Merrilees
The D100 Networking Blueprint™
Want to know how to get on literally anybody's radar? Are there some big names in your industry that, if you could just make a connection with them, could really help scale your brand?
Joe Fier has perfected the process of networking. He is routinely referred to as "the most well-networked guy I know." And the cool part is that he purposefully and methodically made that happen.
This tactic will walk you through how we've managed to connect with, and befriend, some of the most well-known and successful entrepreneurs on the planet… And it's so damn simple that you'll be laughing that you didn't implement this earlier.
If this Author or Course helped you make money or more money. It is really worth it if you go and buy his/her course. Get feedback and help by his/her community. The Author support is much more valuable than the course itself.
If our Site

helped you

as well. A small Donation is greatly appreciated.