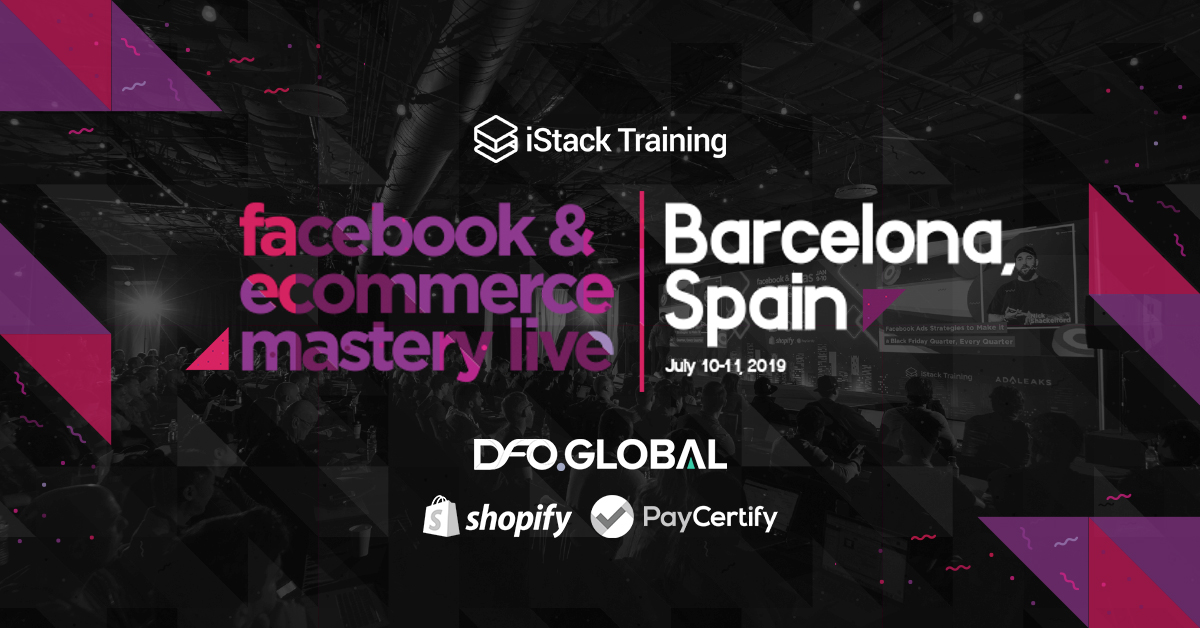 iStack Training - Barcelona 2019
Learn The Exact Marketing Tactics Our Trainers Use To Scale Massive Facebook Ads Campaigns And The Step-by-step Strategies Of Their Hyper-growth Agencies And Ecommerce Companies.
What is facebook & ecommerce mastery live?
This two-day intensive training program for agencies, affiliates, ecommerce entrepreneurs, and their teams will teach the most current and effective methods of testing, scaling, and optimizing Facebook Ads, Google Adwords, YouTube, Snapchat and more.
Speakers:
EZRA FIRESTONE & MOLLY PITTMAN
for a no-holds barred, Traffic and Funnel Hot Seat, where you might get the opportunity to take the stage and get your media buying problems solved LIVE by this epic duo who would usually charge $1000's an hour!
TIM BURD – Founder of AdLeaks
Facebook Ads: Agency/Ecommerce
Facebook Ads Algorithm Whisperer with Hundreds of Millions of Profitable Ad Spend
ELIZABETH HERRERA: Founder of iBuildYourBrand.com
Facebook Ads – Scaling Info
Plastic Banana Amazon Queen Turned Facebook Ads Weapon Behind Monthly 7 Figure Launches
JORDAN MENARD: Founder • Longform Creative
Facebook Ads – Media Buyer Mastery
8-figure media buyer behind the biggest name in the info space
SAM VENNING: Co-Founder of YCommerce
Facebook Ads – Dropshipping
Ruthless Facebook Ads Scaler with 8 Figure Ad Spends Every Year
PHILIPPE ROIREAU: Head of Partnerships at Gorgias.io
Facebook Ads – Ecommerce
8 figure merchant has helped 100s optimize their back ends
NICK SHACKELFORD: Founder of Structured Social
Ecommerce – Influencers
8 figure E-commerce Brand Builder
ALEXANDR FEDOTOVL: Founder of Facebook Ads Rockstars
Facebook Ads – Ecommerce
Facebook Ads Expert Behind $800K in Monthly Spend with 7X ROAS
JIM BANKS: CEO of Spades Media
Ecommerce – Google Ads
Google Ads Expert Behind $200M of Profitable Search Spend
TOM BREEZE: CEO of Viewability
Ecommerce – YouTube Ads
Largest Spending Performance Based YouTube Ads Agency Worldwide
ADIS PEZ: Founder of AdisPez.com
Ecommerce – Branding
Ecommerce brand builder focused on creatives and product launches. Scaled Europe's hottest beverage startup to 8-figures annually.
CHASE HARMER: CEO of PayCertify
Ecommerce – 0% Merchant Fees
Merchant Processing Powerhouse Behind Billions of Ecommerce Transactions
CHRIS ERTHEL: Co-Founder of Meller
Ecommerce Scaling
Facebook Marketing Entrepreneur who grew his own company to 8 Figure Sales and helped over 80 companies
Day 01 • July 10 Facebook Mastery Live
Facebook Mastery Live gathers some of the top Facebook Ad Buyers to train you on the key Facebook Ads tactics around bidding, budgeting, creative, scaling, and more. There are single tips in each of these talks that can radically improve your campaigns quickly.
Whether you're running affiliate, agency, ecom, or info, you don't want to miss any of these game-changing training sessions on Facebook Ads.
Join Ezra Firestone, Molly Pitmann, Tim Burd, Sam Venning and others for a full day of training.
Day 02 • July 11 Ecommerce Mastery Live
Day 2 at Facebook and Ecommerce Mastery Live broadens out from Facebook Ads and heads into other ecommerce topics like Google Ads, YouTube Ads, brand building, product selection/sourcing, Landing page optimization, merchant processing and more!
Whether you're a dropshipper, a brand builder, or an ecom agency, Day 2 will teach you tactics that don't rely on Facebook's algorithm and the strategies you need to build a lasting ecommerce business
Join Jim Banks, Tom Breeze, Adis Pez and others for a full day of training.
If this Author or Course helped you make money or more money. It is really worth it if you go and buy his/her course. Get feedback and help by his/her community. The Author support is much more valuable than the course itself.
If our Site

helped you

as well. A small Donation is greatly appreciated.