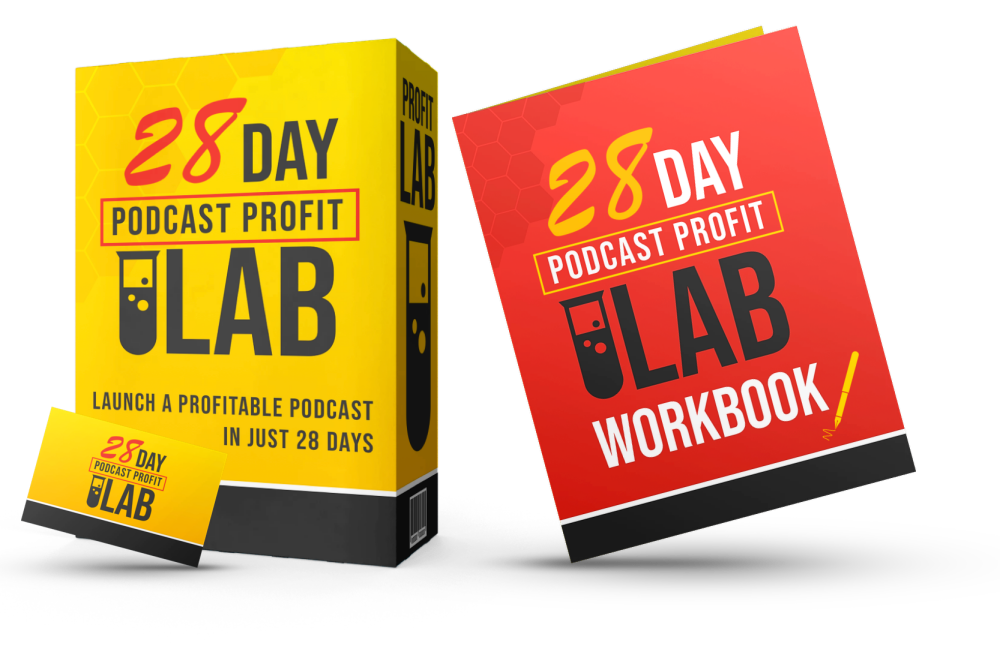 Jamie Atkinson – 28 Day Podcast Profit LAB
At Last! Discover The Real Secret To Launching a Wildly Profitable Podcast in 30 Days
( Even If You Have ZERO Experience, Audience or Tech-Skills! )
I've Gotta Ask You Something…
What's The #1 Most Influential Social Media Platform On The Entire Planet Right Now?
You Guessed It! PODCASTS!
What you get when you join our 28 Day Podcast Profit LAB
28 Day Podcast Profit LAB Program Podcast Profit LAB Workbook & 40+ HOURS of DAILY Group Coaching
We Hold Your Hand And Guide You Through The Entire Process Of Launching Your Podcast:
A Complete 28 Day Work-Book + Guided Check List
The LAB Launch Roadmap To Catapult You To New + Noteworthy
40 HOURS of Daily Coaching Calls For An In-Depth Walkthrough of The Exact Process to Follow
Live Q&A Where We Answer Any & All of Your Questions
12 Month Content Creation Guide + Editable Template
Pre-training: Undertake Your Podcast Lab Prep Training
Get mentally prepared for the next 28 days and get clarity on everything you will need to successfully launch your podcast. We'll guide you on what equipment you'll need and how to mentally prepare for talking into the microphone.
We will set the stage for your podcast and make sure that you understand exactly WHO you're serving and help you create a show which will be unique & attractive to your new audience.
What We'll Accomplish:
Easy Equipment & In-House Audio Setup
Comfortable Space Preparation Guide
​Your 4 W's Questionnaire
​28-Day Roadmap Breakdown
​Competitor Research Training
​'Begin The Hype' Soft-Promotion Guide
Week 1: Mastering Your Podcast Strategy & Nailing a Successful Brand
Through daily coaching calls we guide you through the process of aligning your messaging and content to deliver amazing value & attract your perfect listener.
We help you get comfortable in your own skin behind the microphone & help you create an amazing show outline & script so you know exactly what to communicate to your ideal listener in your Intro.
What We'll Accomplish:
Building Your Radio Persona Session
Record Your Trailer Episode
Schedule Your Podcast PRESS Tour
Your Listener Avatar Walkthrough
Create Your Show Identity
Outline Your Publicity Sheet
Write Your Intro Script + Music Selection
Guest Outreach Templates
Your BOLD Brand Identity
Week 2: Content Planning, Content Creation & The LAB LAUNCH Strategy
Our team will get started preparing all of the technical parts of your podcast so you can focus on the creation process.
We will help you outline and structure your content & get you setup with your 12-Month content creation guide.
We'll give you all the guidance & resources you need to start batching your content creation & designing a podcast launch using The LAB LAUNCH Strategy.
You'll be given our High Profile Guest Outreach Masterclass along with email + messaging templates to land your ideal guests and keep your podcasting growing strong.
What We'll Accomplish:
The LAB Launch Strategy
12-Month Content Creation Guide
Batch Your Episodes & Episode Structure
Record Open & Close Episode Loops
Begin Guest Outreach
Basic Podcast Editing Training
Show Notes Guide + Template
Episode Title Hook Training
Uploaded Your Episodes
Week 3: Podcast Launch Week & 'Podcast Sales Secrets'
Our LAB Launch Strategy enables your podcast to been seen by your ideal listener in it's first few weeks. The aim is to help you reach a wide audience, rank on
iTunes New & Noteworthy, and simultaneously begin building up a strong subscriber base of podcast fans that will support & share your episodes.
Your Launch week is all about maximising your exposure online. This includes going live/posting/promotion every day.
By following the steps outlined, you'll be able to 'Hype' your product launch and get your audience rushing to your podcast on launch day. We will also work with you during launch week to maximise your exposure.
The Biggest Part of this whole product launch is contained inside this week, 'Podcast Sales Secrets'. We'll outline the EXACT approach you should follow to get 10-20 Red Hot leads coming into your pipeline every single month.
This approach allows you to interview your ideal customers on your Podcast, and walk away from the interview with amazing content & the EXACT steps you should follow to close the sale.
What We'll Accomplish:
Recorded Your Launch Day Content
Implemented the Hypest-Hype Strategy
Finish Recording Content For Launch Week
Schedule Your First Week's Episodes
Create Your Day 1 Review Launch Team
Podcast Sales Secrets Method
Sales Podcast Interview Outline Guide
Target Customer Attraction Method
Launch Your Podcast!
Week 4: Grow & Scale | 100 Day Strategy For Success
We outline the core strategies you need to create continued growth & exposure for your podcast. Now that your show is live, we'll also show you how to turn your hard-work into consistent leads for your business.
We show you how to implement key systems for managing your podcast & Include Open Mic Q&A to cover any other questions or queries you may have.
The final piece of the puzzle we help you unlock is the psychology behind the sale. We show you how to talk to your prospects about your opportunity, how to open up your guests to talk about their pain points & challenges and how to structure your sales pitch so your prospects say YES… all without sounding "salesy".
What We'll Accomplish:
Unlock The Growth Strategies for Your Future Success
System for Creating Consistent Leads For Your Business
Systems for Success – How to Automate Important Tasks
​Two Days of Intense Q&A and Group Deep Dives
​Sales Structure Psychological Training
​Access Pain Point + Challenge Question Sheet
Here's A Recap Of Everything You'll Get
The 28 Day Podcast Profit LAB
28 Day Podcast Profit LAB™ Launch Roadmap & Monetization Strategy
40 HOURS of Daily Group Coaching and Q&A Coaching Calls
High Profile Guest Outreach Masterclass
12 Month Content Creation Guides & Template
Ultimate Podcast Intro & Outro Creation
Podcast Branding Expert Masterclass & Templates
Podcast Publicity Sheet Template + Guided Setup
BONUS: Copy & Paste Hiring Assets & Systems
BONUS: 'Podcast Sales Secrets' High Ticket Sales Process
BONUS: Customizable Podcast Blog Template
If this Author or Course helped you make money or more money. It is really worth it if you go and buy his/her course. Get feedback and help by his/her community. The Author support is much more valuable than the course itself.
If our Site

helped you

as well. A small Donation is greatly appreciated.