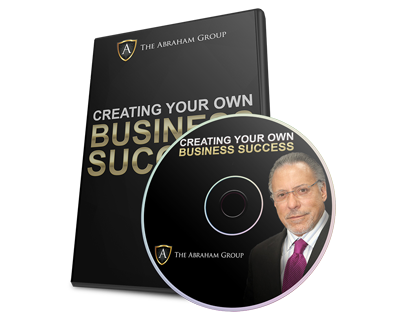 Jay Abraham - Creating Your Own Business Success
If you're someone who's financially stuck -- but stagnating, contemplating, and rarely initiating key business growth activities, then…
What Would You Pay For The $21.7 Billion Man To Show You His...
#1 Business Building Strategy... 
That Reveals How YOU Can Persuade Business Owners 
To Give You A Handsome, Recurring Profit From Their Companies…
-- Without Using Your Own Capital, Time, Or Resources -- 
… Simply By "Borrowing" Other People's 
Assets Instead Of Your Own?
This Works In Virtually Any Industry, With Almost Any Product, In Nearly Any Economy -- 
Whether You Already Own A Business Or Are Just Getting Started!
How to grow, scale, and maximize your profits using effective strategies (and if you're savvy enough… no extra capital required).
​The #1 most easily-executable -- and painfully overlooked -- method to generate cash windfalls in nearly any business.
​A new and enticing path to becoming a highly-revered entrepreneur... consultant... even power player in nearly any network you wish to join.
​How to finally out-think, out-earn, and out-class your competition -- in almost any industry imaginable.
​The insights, secrets, and building blocks of my own multi-billion-dollar business success story -- and how you can capitalize on them to create your OWN business success, too.
You Do NOT Need To Spend Your Own Money To 
Enjoy Business Success Or Create A Sensational Name For Yourself
I advised a chain of convenience grocery stores and gas stations to try a "fun little experiment" for 30 days -- this added $900,000 of pure profit to their business over the next 12 months...
​A landscaping firm I consulted tried one of my more unconventional and overlooked strategies -- their sales spiked by 40% with no extra work on their end...
​I taught a child's singing teacher how to triple her income, month-by-month, consistently and predictably…
​The owner of an electronics firm in Arizona put one of my tactics to work for their business -- it added as much as $60,000 in new revenue to their enterprise.
​​And a car dealer I worked with doubled his business by adding ONE extra sentence to their sales pitch (yes, one sentence added to their pitch 2x'ed their business. That's the power of this strategy)...
These results are sudden, life-changing, yet exist right under the noses of every business I've consulted -- and that's a whopping 10,000+ companies by now.
Unfortunately, most entrepreneurs… maybe even you… spend their entire careers chasing a financial breakthrough -- yet are completely oblivious to the goldmine of wealth below their feet.
Whether you've never started a business before…
Or you're a grizzled veteran with years of hard-fought experience in the bloodied trenches of business building…
You can implement any one of these 100+ profit-producing, sales-generating tactics to secure MULTIPLE sources of income for yourself and finally create YOUR own business success.
The idea is simple: leverage other people's already-existing assets instead of your own.
You might think it's easier said than done -- and you'd be correct -- however, stop and ask yourself this:
Why Do The "Unlucky" 99% Of Businesses Struggle To Extract Any Life-Changing Amount Of Income From Their Fledgling Companies…
... While The Top 1% Of Business Building Icons Yield Satisfying Levels Of Fame, Profit, & Freedom From Their Superior Enterprises?
Here's the answer:
The top 1% follow a different strategy that truly maximizes results while minimizing resources.
By simply altering your strategy, you can open up an entirely new world of business opportunities that you never knew existed.
It's such a shame to see so many promising entrepreneurs underperform their capability to deliver more income, certainty, profits, and wealth to engineering their desired lifestyle.
… but why does that happen?
You're probably noticing that there's an endless amount of information, tactics, and so-called "strategies" that claim to give you breakthrough business results.
(In fact, the invention of the internet -- although amazing -- has created a cesspool of horrid advice from untrained, unqualified, and inexperienced cash-grabbers who have zero clue about real strategic marketing principles that generate real profits.)
Trying to sift and sort through this mess of information is like trying to untangle a Gordian Knot with both hands tied behind your back -- it's impossible.
Which leads me to my next point...
How Do You Identify GOOD Advice...
-- (The Kind That Gives You Quick, Easy, & Repeatable Cash Windfalls) --
From UGLY, Unproven, Untested Advice?
Answering this question can save you years of torment and moments where you feel like quitting and burning everything to the ground.
The good news is…
Once you discover what actually works, higher levels of achievement are much more attainable. Take a look at a few of my clients:
Don't get me wrong -- my clients didn't always get these kinds of results. That's why they brought me on as a consultant in the first place.
However, their lack of results is not their fault because what you might not realize is...
Generating Clients, Customers, & Profits Is NOT Getting Easier For Most Entrepreneurs…
They Call Me A Marketing Legend, The Mentor To The Mentors, & The Highest Paid Marketing Consultant In The World
I've helped over 10,000+ clients in over 1,000+ industries and 7,200+ sub-industries.
My clients range from business royalty to small business owners. But they all have one thing in common -- virtually all of them have profited greatly from my expertise.
Many of my ideas and strategies have led to millions of dollars in profit increase for my diverse range of clients. Here's what some of the greatest business minds have to say about me:
Let's get right to it -- you CAN:
​A client of mine built a $6 million a year business in air conditioning and heating maintenance repair work.
​A hazardous waste consultant built two sources of highly-leveraged income -- one source nets him hundreds of thousands of dollars a year, and the second source nets him millions.
​A wine company I have a relationship with expanded their business 10x -- and now have clients who buy over and over again.
​A client who's a prominent speaker engineered his business to be 90% referral based -- drastically reducing his expenses, working hours, and needing to go out and find new business for himself (business comes to him!)
​A client who's become the foremost real estate work-out attorney on the West Coast rose to the top of his industry because he took ONE of my strategies (which required a measly and nominal $600 marketing investment) -- and turned it into $10 million of fee income per year.
​And a legal company I advised, using the same strategy as above, was able to grow their business by 300% while also reducing expenses by 40% -- becoming a highly profitable, highly efficient, cash-generating business machine.
"Jay That Sounds Amazing, But What Are The Exact Steps To Capitalizing On Hidden Assets, Opportunities, & Relationships… Regardless Of The Industry You're In?"
Creating Your Own Business Success
Discover How To Grow, Scale, & Maximize Your Profits To Any Size Without Needing Extra Capital In This "A-Z" Marketing Home Study Course
All of my methods are now accessible to the average entrepreneur.
You're going to see in-depth strategies, real-world client success stories (and exactly what steps they took to strike it big), and a lifetime of proven wisdom distilled into its pure essence…
… all inside this rare home study course.
I'm going to share with you and demonstrate all kinds of tangible ways that we can get you multiplied results.
In nearly no time at all, you'll become a savvy business and marketing maven who can precisely identify hidden profit-generating impact points that none of your competitors could see before.
In fact, we'll turn your newfound knowledge and wisdom into multiplied profits and sales -- and you'll have the power to make small adjustments that yield considerable results. 
​A client of mine in the construction businesses used one of my strategies as his core foundation and grew his enterprise to $50 million a year.
​A coin company that I advise eventually expanded their business to $500 million a year using the same method I described above
​And I quadrupled the business of a tree trimmer with one simple idea -- this one little idea (which took him no longer than a few weeks to execute) converted 70% of his active clients into ongoing, recurring clients. 
​Many of my clients -- by following one easy strategy for capitalizing on their biggest "hidden pockets of profit" -- add tens to hundreds of thousands of dollars in profit to their bottom-line within months… sometimes weeks.
There has never been an easier and more effective way to understand, implement, and immediately profit from my nearly 30 years of business building experience.
I guarantee it.
If this Author or Course helped you make money or more money. It is really worth it if you go and buy his/her course. Get feedback and help by his/her community. The Author support is much more valuable than the course itself.
If our Site

helped you

as well. A small Donation is greatly appreciated.