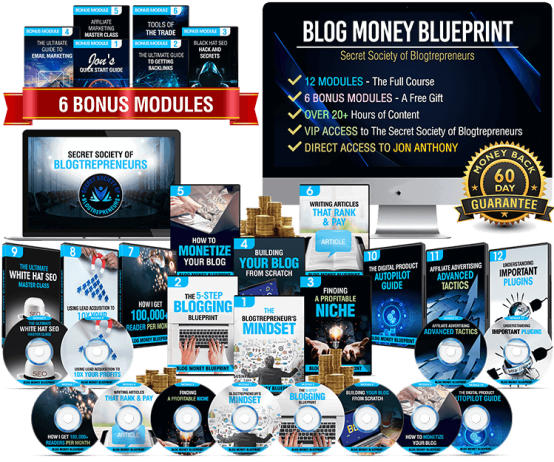 Jon Antony - Blog Money Blueprint
Let Me Show You How I Make $47,338.81 Per Month in Passive Income "Working" For Less Than 30 Minutes A Day.
I'm Not A Writer, But I Run My Own Blog (And You Can Too!)
It's time to create a recession-proof, COVID-proof, and LIFE PROOF online income, that PASSIVELY rakes in $5,000 or more each and every
Here's what you'll get when you buy the Blog Money Blueprint course today:
- Generate Passive Income – Learn EXACTLY How to Generate Thousands of Dollars Per Month in Passive Income (So You Can Literally Make Money While You Sleep!)
Module 1 – The Blogtrepreneur's Mindset
In this module, you'll understand the "mindset secrets" that every successful blogger understands. and that once YOU understand, will help you build a 6-figure blogging empire.
Module 2 – The 5-Step Blogging Blueprint
n this module, you'll discover the simple 5-step process that dozens of guys have used to go from "zero" to "6-figure blog" in just under a year! No need for guesswork, as you can just follow the EXACT 5-step process I used to scale my blog from $0 to over $15k/month!
Module 3 – Finding A Profitable Niche
The nicher you are the richer you are. In this module you'll learn exactly how to pinpoint the perfect niche for YOU, to make thousands of dollars online, AND do it by writing about something you love!
Module 4 – Building Your Blog from Scratch
Get everything you need to launch your blog while skipping over time-sucking tasks. It literally doesn't get any easier and faster than this.
Module 5 – How to Monetize Your Blog
Transform your blog from "live" to "lucrative" OVERNIGHT. Here we'll unlock 3 proven revenue streams that bring in bundles of money on their own — and can even be stacked together to MULTIPLY your income.
Module 6 – Writing Articles That Rank & Pay
No need to spend a fortune on ads or reek of desperation begging friends and family to check out your blog. Here you'll learn a simple formula to create irresistible content on-demand and how to get DROVES of strangers glued to your blog, forking over their hard-earned cash to YOU!
Module 7 – Adding Rocket Fuel to Your Blog's Traffic
Making money in blogging is about two things. First, generating traffic, and THEN monetizing it. Here you'll learn the "growth hacks" I've used to generate a blogging empire that gets over 100,000+ new customers per MONTH, generating THOUSANDS of dollars while I sleep!
Module 8 – Using Lead Acquisition to 10x Your Profits
Get crowds of total strangers coming to your blog around the clock and sticking around to buy whatever you're selling. This funnel shuttles your ideal audience to your blog for you, and helps you make more $$$ per visitor.
Module 9 – The Ultimate White Hat SEO Master Class
Get your blog plastered on the first page of Google, so people from every corner of the earth find it (without even looking). This is how businesses like HuffPost and Buzzfeed rapidly earned MILLIONS of readers and dollars without spending a dime on advertising.
Module 10 – Digital Product Auto-Pilot Guide
Now that you know the wealth of opportunity to get rich online, let me show you how to multiply your income by creating courses, e-Books, and other digital products. Create them just ONCE and you can rack in cash until the end of time.
Module 11 – Affiliate Advertising Advanced Tactics
You don't have to sell your own stuff to add commas to your monthly income. Here's how you can make a killing by recommending other people's products, so you don't even have to make one yourself!
Module 12 – Understanding Important Plugins
Plugins are like "apps" for your blog, and the right "app" can make your life 10x easier. Here you'll discover the 7 most mission critical plugins that I used to scale my blog from $0 to over $15,000 per month.
If this Author or Course helped you make money or more money. It is really worth it if you go and buy his/her course. Get feedback and help by his/her community. The Author support is much more valuable than the course itself.
If our Site

helped you

as well. A small Donation is greatly appreciated.