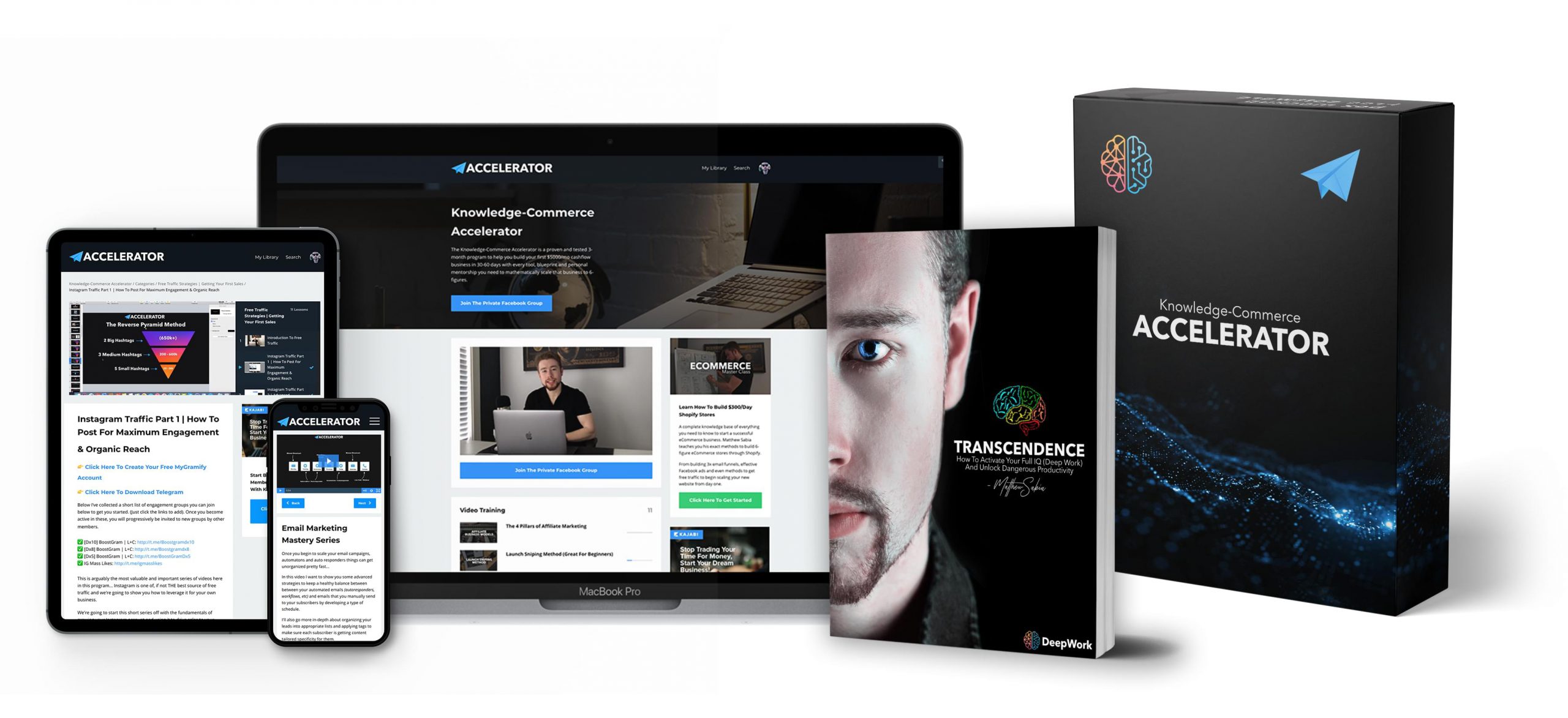 Matthew Sabia - Accelerator
Launch Pricing Closing SOON…
MAKE YOUR FIRST $200/DAY ONLINE WITH SHOPIFY IN 30-60 DAYS
(Without Any Investment Or Experience)
1250+ SUCCESS STORIES DON'T LIE
Our Accelerator training is the most predictable and effective eCommerce program, available. Hundreds of students have built their first $200/day Shopify businesses using this step-by-step proven training.
Ready To Make Your First $269.97 Day?
There is no bigger rush than seeing your first Shopify sale pop up in your inbox and I'm excited to teach you how to copy the exact blueprint I used to get mine in less than 3 days.
Once you've found a product that works, we're going to scale your new business to $3000 – $4000 per month using free traffic from automating your Instagram account, free traffic from YouTube and 12 other methods I use every day.
After that, I'll walk you through the process of white-labeling your products, build a real brand you can be proud of and scale it to the moon with the most advanced Facebook ad training on the internet, period.
ACCESS OVER 60 HOURS OF STEP-BY-STEP VIDEO TRAINING
GET YOUR FIRST SALES FAST
I'm going to let you watch over my shoulder as I build a fully functional Shopify website, find and add winning products then run a simple yet profitable Facebook ad campaign that generates $314+ in sales right on camera. If you're just starting out with eCommerce and Shopify, never started an online business before or just don't find yourself to be a very "tech-savvy" person this is the perfect training for you. I won't be leaving out a single detail from A-Z.
BUILDING YOUR FIRST FUNNELS
This is one of the main things that sets this program apart from the rest. Stop playing this game on hard mode building storefronts and crossing your fingers. Copy my exact sales funnels to 3x your average cart value and 10x your conversion rates.
ADVANCED FREE TRAFFIC
I made my first $1.2 million online without spending $1 on paid ads and I'll show you exactly how I did it. From using live streams in Facebook groups to drive easy on-demand sales to Instagram expert Yogev Zenesh teaching you the advanced Instagram strategies large agencies use to turn your Instagram profile into a profit machine.
BUILD 8X EMAIL FUNNELS
One of my mentors always says "People who master email marketing don't just get rich, but they stay rich." and he couldn't be more correct. I'm going to teach you how to build automated email funnels that can double if not triple your sales within days.
CHATBOT MARKETING
This is the first eCommerce training program to dive deep into using chatbots and Facebook Messenger to drive sales. Learn how to leverage Messenger's 88% open rates and one-click opt-ins to build massive lists of loyal repeat customers you can text at any time.
UNLOCKING FACEBOOK ADS
This is the most advanced Facebook ad training available on the internet. Period. That's my promise to you. From leveraging Facebook's lexical sentiment bias, why you're Facebook Pixel destroying your targeting and why your business account setup may have you blacklisted without even knowing it.
No more "Test $5 a day ads and cross your fingers" BS that you've been fed by other "gurus"
I'm also going to give you my blueprint on how to infinitely?scale your campaigns without including? ad costs or hurting your reach? So without any intention of being over-dramatic, I want you guys to use this information wisely and responsibly.
VIDEO MARKETING MASTERY
Learn how to create high-quality product videos to use on your sales pages, how to rank any YouTube video using the same method I used to grow mien from 0 to 50,000 subscribers in less than a year plus learn how to create and run YouTube retargeting ads through Google.
TURN YOUR DROP-SHIPPING INTO A REAL BUSINESS
The Accelerator is the only program with comprehensive training on white labeling your own products. From how to find and contact manufacturers, how to leverage fulfillment centers, how to get custom packaging and more. Build a real brand you can be proud of and turn it into an empire.
If this Author or Course helped you make money or more money. It is really worth it if you go and buy his/her course. Get feedback and help by his/her community. The Author support is much more valuable than the course itself.
If our Site

helped you

as well. A small Donation is greatly appreciated.