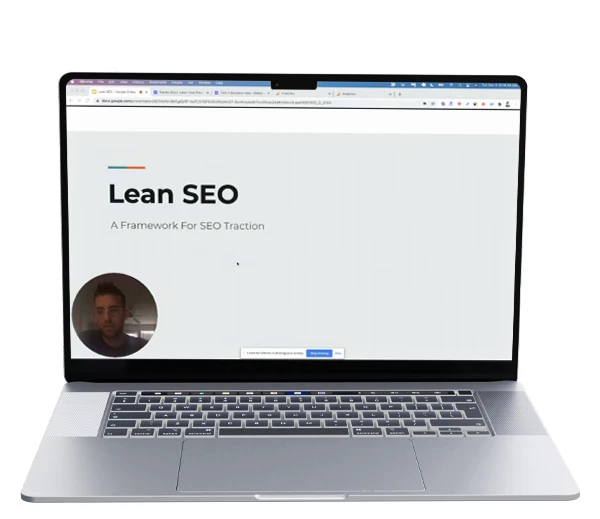 Pat Walls - Lean SEO Our Framework For SEO Traction
Skyrocket Your SEO Game with a Proven Framework That Delivers Results
Are you stuck in the SEO maze, endlessly optimizing but not seeing the results you desire? Pat Walls, the mastermind behind Starter Story's meteoric rise to over 1 million monthly visitors, brings you Lean SEO. 
This transformative approach focuses on actionable steps, real-world testing, and scalable success.
What's Inside the Course
Introduction to Lean SEO
Kickstart your journey with an overview of the Lean SEO framework, the game-changing strategy that propelled Starter Story to new heights.
Foundational Principles
Grasp the core tenets that make Lean SEO a universally adaptable and effective strategy designed to fit teams and businesses of any size.
The 5-Step Framework
Dive deep into the five pillars of Lean SEO: Research, Create, Test, PPS (Pivot, Persevere, or Scale), and Scale. This is your blueprint for guaranteed SEO success.
Identifying Content Types
Move beyond keyword obsession and learn how to pinpoint high-impact content types. Understand how to adapt successful strategies from other websites to your own.
Rapid Content Creation (MVC)
Master the art of crafting Minimum Viable Content (MVC) that can be developed and published in as little as two hours, without sacrificing quality.
The 30-Day Test
Embark on 30-day experiments to gauge the effectiveness of your MVCs. Learn how to set up, track, and analyze these experiments for actionable insights.
The PPS Strategy
Uncover the secret to making data-driven decisions with the PPS (Pivot, Persevere, or Scale) strategy. Know when to change course, double down, or scale your efforts.
Metrics for Success
Learn how to set KPIs and measure the ROI of your SEO strategies. Understand what sets high-performing content apart from the rest.
The Art of Perseverance
Discover when to stick with a strategy and how to elevate its quality. Bonus: Get 12 actionable tips to improve your content.
Scaling Your Efforts
Learn how to take your SEO to the next level by scaling effectively. Your endgame isn't just a handful of blog posts; it's a content empire.
Course Conclusion
Wrap up with a concrete action plan to immediately implement Lean SEO into your daily operations.
Bonus Material
Watch Pat Walls create an MVC in just 24 minutes, offering you a real-world example to emulate.
Why Enroll in Lean SEO?
Field-Tested Strategies

: This isn't theory; it's a proven framework that delivered over 1M visitors to Starter Story.

Action-Centric Approach

: Lean SEO is all about doing, testing, and iterating, not just planning.

Versatility

: Whether you're a startup or an established business, Lean SEO is designed to fit your needs.

Lifetime Course Access

: Learn at your own pace and revisit the material anytime you need a refresher.

Expert Mentorship

: Benefit from Pat Walls' extensive experience and success in implementing Lean SEO.

Personalized Support

: Have questions? Reach out via email for timely and insightful answers.
Who Should Take This Course?
This course is ideal for those who have the time, patience, and a long-term vision for SEO success. Whether you're looking to grow an existing business or start a new venture, Lean SEO is the key to unlocking your full potential.
Don't let this opportunity slip away. Enroll in Pat Walls' Lean SEO course today and turn your SEO aspirations into achievements!
If this Author or Course helped you make money or more money. It is really worth it if you go and buy his/her course. Get feedback and help by his/her community. The Author support is much more valuable than the course itself.
If our Site

helped you

as well. A small Donation is greatly appreciated.