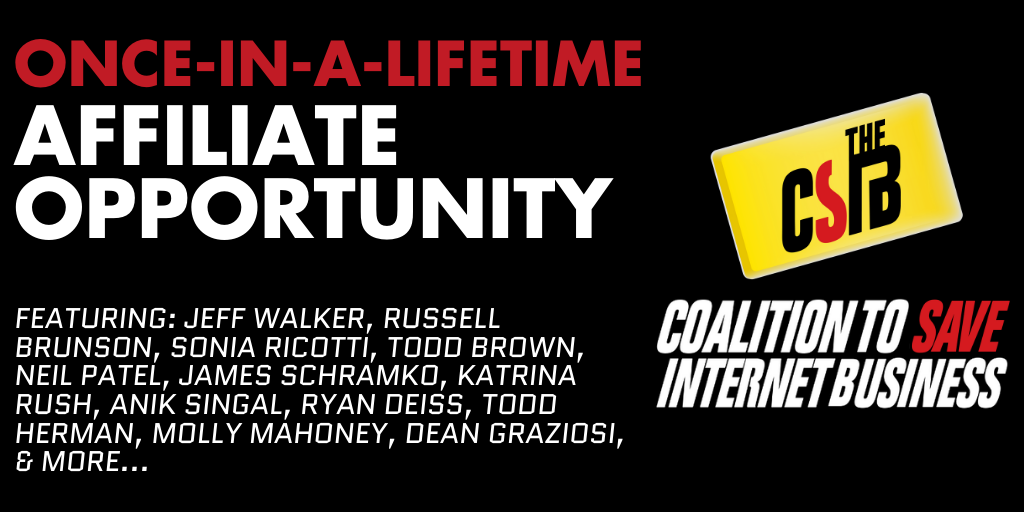 Rich Schefren - Coalition To Save Internet Business Event
Hey Rich Schefren here.
If you missed my 24-hour livestream, you missed something truly historic…
Over the course of 24 hours I had special guest after special guest come on LIVE and share their most coveted marketing secrets to help YOU to succeed in 2020 just like they are.
From Clickfunnels connoisseur Russell Brunson to digital marketing maven Ryan Deiss…
There's never been this many internet marketing secrets shared under one roof.
And just in case you missed it — I had my team hustle and put in overtime to get the highlights posted above.
Here's a sneak peak of just a handful of the golden nuggets you'll discover in the highlight video above…
Russell Brunson reveals the #1 biggest challenge he had scaling Clickfunnels and what he did to overcome it [5:35]
How to instantly outspend your competitors and leave them in the dust WITHOUT creating any new products [12:05]
The single best funnel you can implement into your business today [21:45]
The 4 words that took Scott Oldford from a Million dollars in debt to a thriving internet marketing Rockstar in just 6 months [26:50]
The top 9 processes to create intimacy between you and your reader in an age where attention is so scarce [49:05]
The fastest, easiest, most inexpensive way to build an online coaching business even if you have never jumped online, have a big budget, or have any tech skills. [1:09:40]
3 simple questions to ask your prospects that will have them spewing out your sales copy for you [1:11:01]
The single biggest mistake internet marketers are making in 2020 from Digital Marketers Ryan Deiss [1:28:10]
How to tap into the massive millennial market in 2020 (HINT: it's NOT social media…) [1:40:35]
How is voice search changing the state of internet marketing and how to profit from it going forward [1:44:45]
The biggest growth hack to scale your business FAST in Q1 2020 and beyond from Roland Frasier [1:54:40]
Jeff Walker shares a simple 5 minute hack that will increase your open rates… engagement… and bottom line [2:12:55]
What internet marketing will look like in February of 2021 from Ryan Deiss, Roland Frasier, and Jeff Walker. [2:16:45]
The best "bang for your buck" platform to market on RIGHT NOW and how to take advantage of it [2:35:05]
What Facebook is doing behind closed doors that could completely change the way you market on their platform in the next few months [2:41:10]
And much, much more!
But by missing the livestream you didn't just miss 24 hours of action-packed content and secrets…
You also missed me pull back the curtain on…
A "Top Secret" Project I've Been Working On Unlike Anything In The History Of Internet Marketing
You see, what I'm about to show you has NEVER been done before.
And when you take advantage of this limited-time offer we've put together for you…
You'll have the ability to grow your business… improve your productivity… and stay on the cutting edge of online business strategies... EVERY single month.
What is this "top secret" project exactly?
If this Author or Course helped you make money or more money. It is really worth it if you go and buy his/her course. Get feedback and help by his/her community. The Author support is much more valuable than the course itself.
If our Site

helped you

as well. A small Donation is greatly appreciated.