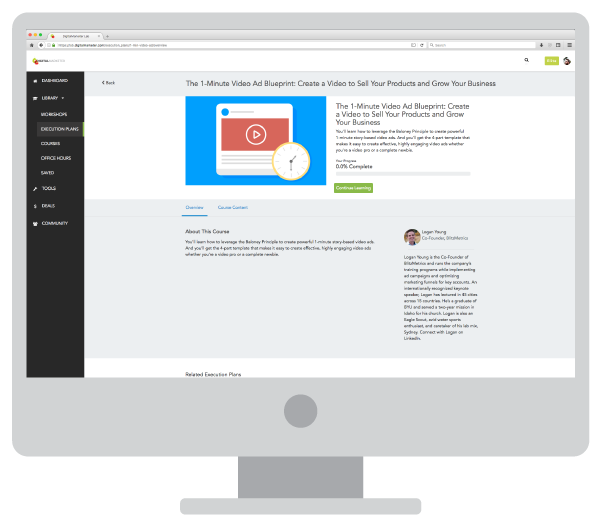 Ryan Deiss - 1 Minute Video AD
What is 'The 1-Minute Video Ad Blueprint'?
A Secret Strategy for Maximizing the Value of Your Ads Using Video to Tell A Story...All In 60 Seconds
Use this proven, step-by-step plan to help you quickly roll out a 1-minute video that draws your viewers in using a powerful story and gets the click by leveraging a powerful combination of copywriting and video techniques
Let's face it: People don't like being sold to. So, it's important to wrap your sales message in something they love-stories. By wrapping your offer in a great story, you'll make it 100% more engaging.
5 Quick Steps To Creating Eye-Catching, Engaging, and Effective Video Ads
Discover the simple, 5-step formula for developing a video ad that actually CONVERTS (HINT: Hook + _____ + Solution + CTA = Conversion)
Complete with real-life examples of 1-minute videos that have not only sold MILLIONS, but have gone completely VIRAL as well, we break down why these videos are effective and how you can model your videos off these exceptional examples.
A Proven Method For Creating Interest, Curiosity, and Desire For Your Products
Use the "Baloney Principle" to leverage the power of story in your videos to stand out in today's busy, connected world.
This Execution Plan shows you how to craft a 1-minute video in your brand's voice and style (even in "boring" or "straight-laced" industries) and still build desire and drive action.
If this Author or Course helped you make money or more money. It is really worth it if you go and buy his/her course. Get feedback and help by his/her community. The Author support is much more valuable than the course itself.
If our Site

helped you

as well. A small Donation is greatly appreciated.