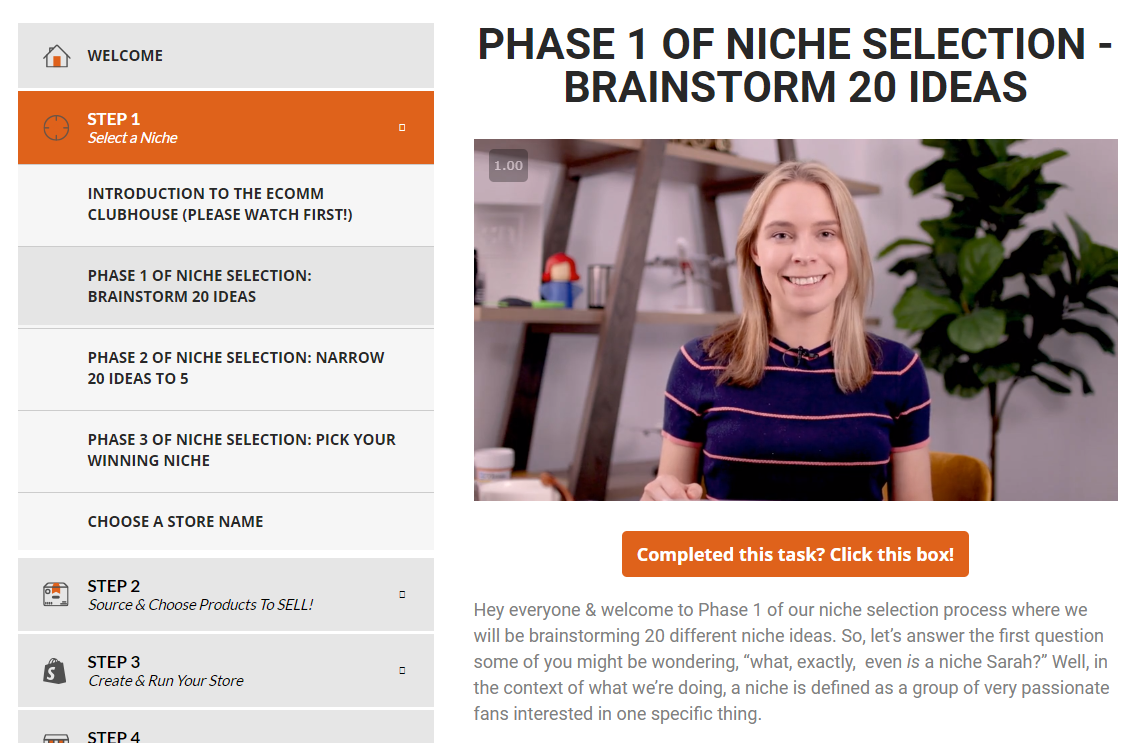 Sarah Chrisp - Ecomm Clubhouse
Watch Now To Learn The "3 Step Formula" To True Wealth…
THE ECOMM CLUBHOUSE
Wholesale Ted's Updated Curated Ecommerce Training
Learn how to build an online store with print on demand & dropshipping!
Over 10 hours of premium video training (more than 5x the content in most $500+ programs!). Our students love the videos because unlike most courses which include hours of waffling, all of our videos are curated & packed with actionable information just like Sarah's YouTube videos.
Learn how to sell phantom products that don't even exist yet with our extensive Print On Demand training video library.
Learn how to find & sell hyper-viral, super-popular products with Dropshipping, even if you have a low start-up budget!
Plus Sarah will teach you different scientifically proven sales psychology techniques to get customers to spend more MONEY!
Most courses just repackage their YouTube videos into boring, worse powerpoint videos. Not us! Sarah goes on-camera with unique videos that expand on our channel tutorials. E.g. on the channel our SEO tutorial is 34 minutes long. In the club? It's over 2 hours long!
Get access to tutorials not available on the Wholesale Ted YouTube channel, such as the step-by-step tutorial to creating video ads.
Plus of course, learn Sarah's strategies for getting free traffic & customers from Google using Search Engine Optimization (SEO).
All video lessons have English Captions! We have several members inside who don't speak English as their first language & they love the videos.
The Real Secret To Financial Freedom…
Every day, I get the same question over and over again…
"Sarah! I too want to travel around the world & be financially free! How can I do that?" And whenever anyone asks me that, I always give them the same answer…
One, you could win the lottery. Two, you could be born into a wealthy family. Or three? You can dedicate yourself to building a real business. Because unlike a job, a business does not have an income cap: and can be scaled UP & UP!
And y'know, I didn't come from a wealthy family. And I didn't want to leave my life in the hands of chance, so guess which I option I took? That's right, option #3. And y'know what? I can safely say that…
I have absolutely, 100%, no regrets!
A business isn't a secret money hack. A business is simply when you do 3 things well…
One, you create or find great products/services to sell. Two, you put those products in front of the right customers. And three? You give them an awesome reason to buy!
No tricks. No "secret hacks."
No matter your industry, that is what business ultimately is. And here is the truth a lot of people won't tell you: learning these 3 things for most of us is going to require hard work & sacrifices. Everyone's learning curve is going to be unique to them. Now I'm clearly a little biased, but if you ask me, it's well worth it! However it's a journey & while education is helpful, it's not a replacement for experience learned from taking action.
For years, I have shared my passion for one particular type of industry on the Wholesale Ted YouTube channel: ecommerce. And while my subscribers appreciated it, they also told me they were tired of disorganized YouTube videos, and wanted me to create a beginner-friendly course of curated yet affordable information to help them along their journey of learning these 3 things as they launched their new business.
And so I sat down & thought: what information did I wish I had known before launching my first store? And that's how The Ecomm Clubhouse was born!
If this Author or Course helped you make money or more money. It is really worth it if you go and buy his/her course. Get feedback and help by his/her community. The Author support is much more valuable than the course itself.
If our Site

helped you

as well. A small Donation is greatly appreciated.