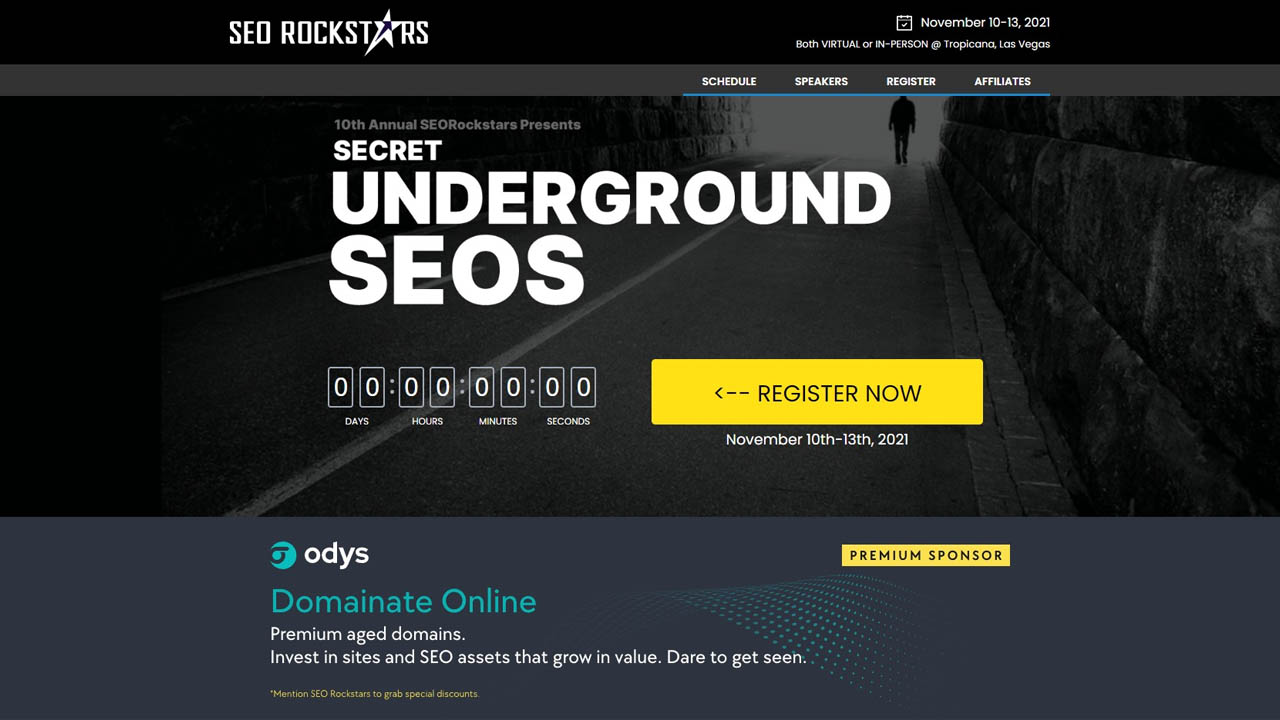 What You Will Learn Inside SEO Rockstars 2021 Recordings
Day 1 –
SEO Rockstars 2021 Recordings
8 Figure SEO – Scaling Your Business & The Future of SEO
Follow Tim as he takes you on his journey of how he scaled Helium. So much comes down to Vision and planning where you want to go and Why. Scaling an SEO company is no different than scaling any other company, you have to start with Why and Vision and then work backwards. He has some great content to share here.
Leveraging AI Content in SEO to Win Everytime
Michal will talk AI content and how it can impact your SEO and ranking. It is a big topic now thanks to GPT3 and other technologies being developed. There are dozens of tools that create AI content. But can it rank in Google? Is there a way to leverage this technique in SEO? He will answer these questions plus more. He won't pitch tools but will pitch a proper approach to AI in SEO in 2021 onwards.
Top Secrets to Beating Your Top 3 Competitors Every Time: On Site SEO + Internal Linking!
In this presentation, Moon talks about the most important factors and strategies that she uses to show successful results to increase rankings: clean site structure, on page SEO, & much more! This includes the recent set of Google Updates and recovering from them.
"Seriously" Dominating Your Local Market
In this presentation, Daryl will uncover the "Local Surge" process to take over page one for your local market using a reliable, repeatable process. Attendees also receive a copy of his advanced RSS/DataFeed schema template.
How to use Schema "The Right Way" to get Top Rankings
In this presentation Clint will show you how schema and machine learning intersect in SEO. Discover the true value of schema and how to apply it to your site to help machine learning and artificial intelligence understand it better.
Staying OUT of The Nightmare Currently Plaguing Sites With Lawsuits
In this presentation, Judy will explain how she writes great semantic code and makes her clients websites WCAG compliant. The result… This ranks them quick and high. Judy will talk about how you can build this into your website and why this strategy should be a part of your SEO process. Judy will also be dropping a bomb that you surely should not miss!
10x Your Results With These 10 On-Page Signals Working Together
During Joseph's presentation, you will learn all about On-Page SEO harmonic signals that work together to magnify your results x10. He will introduce 5 factors that if used together in the correct rhythm, will skyrocket you to the top. You will learn to harmonize your on-page entities to rank without backlinks. With schema as the bass player, velocity as the drummer, get that perfect harmony that will get you to rank quickly, without fail.
DAY 2 –
SEO Rockstars 2021 Recordings
What I've Learned From Enterprise Backlink Building
Learn how to build an Enterprise level Backlinking system that can scale and adjust to an ever-changing Search Engine landscape. Learn how to use correlation analysis, Excel or Python, to make better predictions about what links to build for clients and determine what truly drove results.
"Outrageous" Rankings In Foreign Countries
Learn all about foreign SEO or SEO in other countries, what has been tried and tested to get foreign sites ranking in their local search.
What I have learned from outreaching to almost half million domains worldwide
In this presentation, Milosz will talk about his outreach processes, tools, scripts, and API. Everything he has learned about his experience in outreaching – what works, what does not work, communication blocks, relationship link building, HARO beyond link building, and entry to digital PR.
Tell All – What I Found Testing Links While Working for SIA
Get everything that James has learned from the linking tests he has set up in the SIA. Learn which type of links are working and which ones are not. Learn what types of links give the best boost and that you should be building to your site.
Google Validated Authority Links For Local Top Ranking
In this presentation, Dan will outline a detailed strategy for how his agency builds links utilizing Google's tools to validate link power, reduce link costs and build site authority faster. He will break apart the traditional methods used for link building and show you a more efficient way to acquire links and set up site pages to boost the power of the incoming link. He'll show the first two steps most agencies miss to increase site ranking when onboarding new clients.
Where and How I get a Platoon of Never Ending Backlinks That Kills the Competition
Randy will share with you his best practices on optimizing a Press Release and generating a massive amount of authoritative links. THEN – the secret sauce to do AFTER publication! He will personally walk you through their tried and tested process of building a Press Release that not only gets distributed across a wide array of news networks, but also continues to deliver links organically over time.
The Power of Owning Your Own Google News Network
Learn how to get your site approved in Google News and how to build your own Google News Network to help boost your site and business.
Linking – On Steroids – Creative "Holly" Ways To Takeover The Serps (and staying out of trouble)
If you aren't using Google news sites yet for your SEO, then this is for you. Learn how to use Google News Approved sites, on steroids, to takeover the serps.
DAY 3 –
SEO Rockstars 2021 Recordings
Black HAT SEO That Should Scare You
Craig will be dropping a load of "Black Hat SEO Bombs" on CTR, automating Linkedin Engagement, Black Hat Link Building, and some creative black hat thinking. Actionable tips and advice that you can implement on your site. These are stuff that he has never shared before!
7-Figure SOP's – SEO Process Maps For Your Eyes Only
In this presentation, Lisa will be sharing exactly how to create 7-Figure SOP's so you can duplicate her success. And as a bonus, Lisa has agreed to share EXCLUSIVELY with her fellow SEORockstars, exactly how she uses these same processes to 2x and 3x her SEO sales. She will be giving away a special bonus that you should definitely watch out for!
The "Genius" Way of Automating SEO Processes While Getting BETTER Results
Learn how to use Python to automate your SEO processes. Make your processes more effective and easier for you to scale up your business and get more clients.
Is Core Web Vitals A Ranking Factor?
We take a trip down the rabbit hole that is page speed optimization and Core Web Vitals to look at if Google is actually using it as a ranking factor, and if so, what are the biggest wins we can get from implementing it.
Mistakes to Avoid When Growing Your Agency to $3.5M and Beyond
Learn from Nick's experiences and mistakes in growing his agency to a $3.5M per year business. Avoid his mistakes and have less gray hair, scale faster and have a bigger, better agency – more revenue, more profit, higher valuation, less drama.
Scale Up To a 7-8 Figure Business
What You Get: Learn about Gary's unique marketing strategy that has helped ecommerce companies scale to 7-8 figure businesses and how you could apply it to your business.
If this Author or Course helped you make money or more money. It is really worth it if you go and buy his/her course. Get feedback and help by his/her community. The Author support is much more valuable than the course itself.
If our Site

helped you

as well. A small Donation is greatly appreciated.