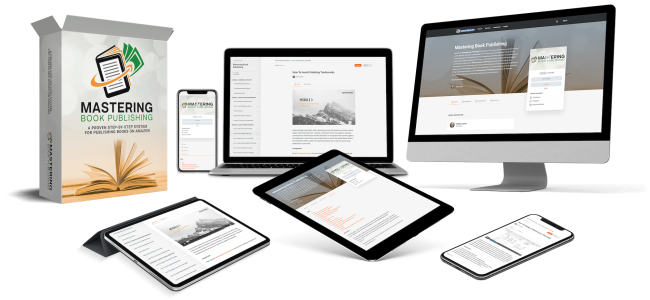 Stefan James - Book Publishing Course
From The Laptop Of Stefan James
According to the National Bureau of Economic Research, there have been 17 recessions in the past 100 years, and they've found that an economic recession could be as long as 3.5 years.
So the question is this: What have you done to prepare yourself?
I believe that when there is crisis there is also opportunity.
While the majority of businesses are suffering, there is one market that's expanding rapidly…
...Amazon Book Publishing!
*Results may vary and testimonials are not claimed to represent typical results.
She earned $12,421 so far with just one book.
Was it luck? Maybe... Not every book creates this amount of money. One of her books made "only" $200...
Or maybe she has more experience, or maybe she has more resources...
I can tell you, she does not.
I've seen countless people quit their jobs and make 6-figures now, while traveling the world with the methods I'm going to show you today...
If you apply only a fraction of what I'm going to share you'll see incredible results.
Keep on reading and I'll show you what she and many other normal people like you and me did to create an ongoing stream of passive income…
But before we move into the details, I've got to say…
Stop reading if you're looking for another...
❌ 3-Step formula to "make money on autopilot"
❌ "System" to get rich quick on Amazon while you sleep
❌ Course on "how to make $1,000,000 fast"
You've seen these ads on YouTube and Facebook, right?
It's promises like these, by some unethical gurus out there that cause people to invest their time and hard earned money into false promises that never materialize...
But that's not how this works... 
I have never seen someone create sustainable success from doing nothing.
On the other hand, if you're willing to invest 3-5 hours a week to learn what it takes... then my friend, this opportunity can help you create the life you want and deserve.
I truly believe that you can get what you want in life. And I'm going to help you on your way...
But I don't believe you get something for nothing.
You have to put in some time and energy.
That's how I built my online businesses and that's the only way it works.
So if you agree with me on that, you can continue reading...
It All Started Back In 2011...
Then I Discovered 
Amazon Book Publishing
Amazon made it easy for me to sell books and scale my business.
There was no longer any need to drive traffic to my website through Google or expensive Facebook ads.
Why? Because each month more than 2.2 billion people around the world visit Amazon.com.  And unlike Google, people visit Amazon not to find new information... but to spend money!
Amazon already has most people's credit cards stored on their website and their "One-Click" buy option makes it easy for people to buy books.
People also trust Amazon more than websites they don't know.
According to Forbes,  "89% of consumers are more likely to buy products from Amazon than other e-commerce sites."
Not only that, but Amazon also makes it super easy for ANYONE to publish a book on their platform.
All you need is a text document and a book cover.
You can upload both in a few minutes, hit publish and within 24 hours have a book on Amazon available for sale, starting to make you money.
You don't have to ship inventory from China to the US, you don't have to pay storage costs, you don't have to set up your own website, and you don't have to spend months or years developing a high-income skill.
As you can imagine, as soon as I discovered Amazon Book Publishing… I immediately published ALL of my books on Amazon.
Within my first week I made $147, the week after I made $273, than $512...
I published more books in  a similar niche... and BOOOM!
In only a few short months, I made more than $4,000 on Amazon...
… And Then I Realized I'm Finally FREE!
*Results may vary and testimonials are not claimed to represent typical results.
*Results may vary and testimonials are not claimed to represent typical results.
*Results may vary and testimonials are not claimed to represent typical results.
*Results may vary and testimonials are not claimed to represent typical results.
*Results may vary and testimonials are not claimed to represent typical results.
They are stuck in a dead end job that they hate.
They are not being compensated fairly.
​They live from paycheck to paycheck.
​They end up poor when they retire.
But there is a difference between making a living and creating the life you truly desire and deserve.
Wouldn't you agree?
Can you imagine creating a book that can help you quit your job, live life on your own terms, make more money, and create the freedom and security you desire?
I want to help you achieve that.
If you've struggled so far, I get it.
It's not your fault. There's a lot of people selling courses…
But they don't tell you that up front, do they?
So What Makes Me Different From All These "Gurus" And "Marketing Experts" Out There?
Well, most "experts" who teach you how to build a successful business, have never done it themselves.
In case you don't know me, I've built a very successful online brand called "Project Life Mastery."
With more than 900,000 subscribers, Project Life Mastery is one of the leading YouTube channels in the self-development and online business training space.
I've had the opportunity to meet and interview some of the brightest minds in business, marketing and creating success, such as Tony Robbins, Robert Kiyosaki, Dave Asprey, Dan Lok, Russell Brunson, Dean Graziosi, and many more.
Most people talk about living the laptop lifestyle and how to be rich...
I, on the other hand... live it, breathe it, and teach it.
And it all started back in 2011 when I had my first breakthrough by publishing a book on Amazon.
Now You Might Think, I'm Just a Lucky Guy, Born Rich, Or Some Kind Of Genius...
If this Author or Course helped you make money or more money. It is really worth it if you go and buy his/her course. Get feedback and help by his/her community. The Author support is much more valuable than the course itself.
If our Site

helped you

as well. A small Donation is greatly appreciated.