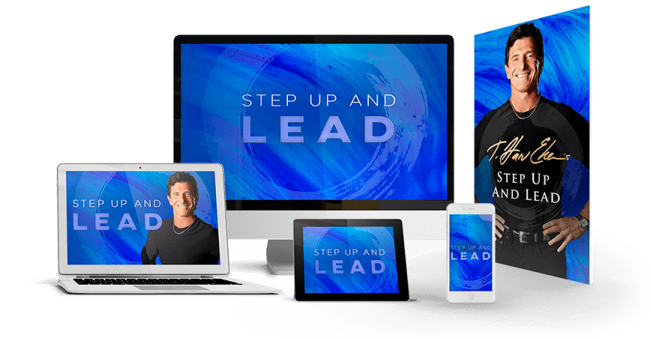 T. Harv Eker - Step Up And Lead
When you first started your business, did you...
Imagine that having a team of people working for you would cause you so much stress, frustration, and agony?
Envision being surrounded by people who complained, underperformed and didn't do what they said they would?
Think you'd feel pressure every day to make decisions that you're not confident in making?
Believe you'd be getting quicker results and doing better than you're doing now?
You took the leap, you started a business. You went for it...
… And in return you're getting less sleep. You're working harder than ever. And the amount of money you thought you'd be earning right now is nowhere close to your reality.
What the heck is going on?
Is it you? Is it your team? Is it your product or your service? Why are you still struggling?
Hi, my name is Jesse Eker and I'm the Managing Director for Harv Eker International and over the last 4 years I've been able to successfully lead our team from negative $50,000 in revenue to over $4,000,000 in YEARLY revenue.
But let me be frank, it wasn't always easy. When I first started this business with my dad, T. Harv Eker, we were not doing great.
Okay, that might be down playing it a bit, we were doing awful! My dad being semi-retired meant I was coming in as the leader.
Over the first 6 months I hired several new employees and the results spoke for themselves.
We were losing money… quickly.
The team was frantic
Everyone was lost
We were missing deadlines and pushing projects
And our students were getting frustrated with the lack of support and attention they needed and deserved
Coming into this company, all I knew was how to build an online business… not run a company. I never had to delegate or outsource or manage… and I'd never trained anyone in my life!
It was a total nightmare.
At the 6 month mark I flew down to San Diego to meet my dad for our quarterly meeting.
After showing him the financials and the report of what we did vs. what we had planned my dad said, "Jess, this is not acceptable."
My ego was struck so I defended myself. "It's not me Dad, it's my team. They can't get it together."
He looked at me and said very calmly but sternly, "It doesn't sound like a team problem, it sounds like a leader problem."
And then what he said next hit me like a ton of bricks. He said, "Unlike what most people think, leaders are not born leaders. They LEARN to lead."
Wow, that was the first time I heard that. I always thought people were natural 'born-leaders' and that people would just follow my lead based on my actions.
I quickly realized that unless I wanted to be a 'one-man team' for the rest of my life, I absolutely NEEDED to become a great leader.
So I asked him, "What did you do?"
He said, "I learned… just like you need to do."
So he sent me an audio file. I could tell it was from one of his live courses.
As I was listening I could feel my hands getting sweaty. I started to pinpoint where I made my mistakes.
I finally understood what was going on, what I was doing wrong and more importantly, I started to learn what I needed to do instead.
If this Author or Course helped you make money or more money. It is really worth it if you go and buy his/her course. Get feedback and help by his/her community. The Author support is much more valuable than the course itself.
If our Site

helped you

as well. A small Donation is greatly appreciated.