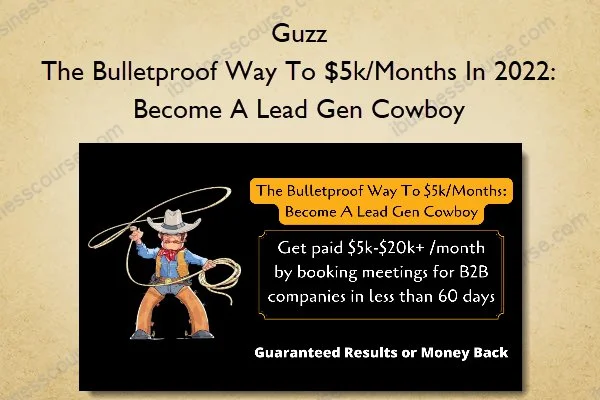 The Bulletproof Way to $5k Months in 2022 - Become a Lead Gen Cowboy - Guzz
The incredibly boring, but 100% most bulletproof, easiest, high demand, zero risk way to get to your first $5k months in 2022 - book meetings for other companies.
And if you don't sign a client within 60 days of joining after implementing all my strategies - you get a 100% refund, no questions asked, no strings attached.
Best part about running a lead generation agency?
It's scalable as fuck.
As long as you can get to $5k a month, you now have a proven way to earn money online.
And then it's just a matter of time, dedication and pumping up volume before you hit $10k, $20k, $50k+ months
But Gussssss, how do I get to $5k a month when I have no idea how to get clients or book meetings for my clients for that matter??
Well isn't that just the beauty of running a lead gen business.
The way you get clients for yourself, is the exact same way you get clients for them.
And I will show you exactly how you do that in this honestly pathetically low priced program.
Am I saying I'm the top 1 lead generation expert on the planet?
Of course not.
But what I am telling you is that in this program, I have outlined every single thing I do at my own agency that has made it possible for me to hit $20k a month consistently.
And my clients fucking love me.
Their business is struggling hard, they have no idea how to get meetings booked in on autopilot.
They NEED my service.
So when I come in and literally print them meetings, they are the most grateful clients ever.
They can't even live without me now.
Here is some of the results I get for my clients, and I will show you exactly how you can get the same results for your clients:
LinkedIn Campaign 1 (31.6% reply rate):
LinkedIn Campaign 2 (45% Accept rate, 38.8% reply rate):
LinkedIn Campaign 3 (47% Accept rate, 50.1% reply rate):
Cold Email Campaign 1 (8% meeting book rate):
Cold Email Campaign 2 (11% reply rate - 2.8k cold emails, nothing personalized) :
There is honestly no way to fuck this up.
Use my exact strategies, and you will be able to sign clients for yourself with EASE, but also get your new clients some banger results and get paid a LOT of money for doing it.
Join this program, implement everything I tell you to do and in about 100 days from now, it's extremely likely that you could be earning anywhere between $5k-$15K per month simply be generating leads and meetings for other companies.
If this Author or Course helped you make money or more money. It is really worth it if you go and buy his/her course. Get feedback and help by his/her community. The Author support is much more valuable than the course itself.
If our Site

helped you

as well. A small Donation is greatly appreciated.