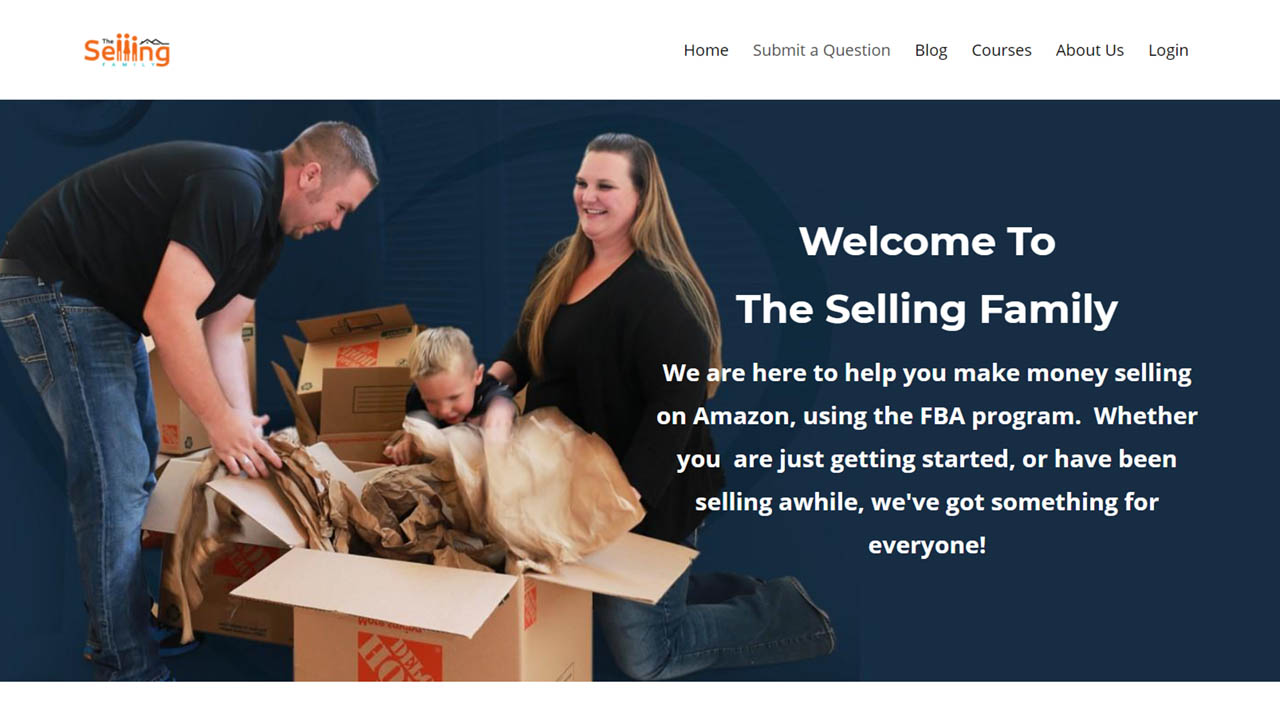 The Selling Family - 5 Courses Bundle
01-Liquidation Gold
The Secret To How We Get 10x Profit Margins
Liquidation Gold spills the beans on how we are able to get unheard of margins in our Amazon FBA business!
Here's What You'll Get With This Course
In the Liquidation Gold course I'll share my best strategies for making the most of liquidation sourcing.
26 lessons full of our strategies to make the most of your next liquidation store visit! No more walking in and then right back out because of all of the overwhelm! This guide is written in an easy to read format and takes you through the decision making process of getting the best inventory possible.
Lots of examples of items we have sold in the past from Liquidation and Discount stores.
Our best tips for finding liquidation stores near you.
Strategies for deciding how much of each item you should buy. And knowing when to go all in vs testing first.
Our quick research tips to help you determine if an item is really hard to find and why.
Key things you need to watch out for when dealing with liquidation and discount stores for your Amazon business.
How to build relationships with store owners and employees so that they will be begging you to come back in and clear there shelves!
An inside look at our most profitable categories and what to watch out for in them.
02-Category Ungating Training
In this course, I show you exactly what you need to do so that Amazon will say YES you can sell Topicals, Toys, and Groceries products.
Plus…Multiple subcategories AND over 20 popular name brands!
What you'll get:
– Instant access to step-by-step videos that walk you through the entire category ungating process.
– Recommended product for each wholesaler to get ungated in the category, with live photos and any needed documentation.
– Comment support if you need help.
And…Let's not forget this awesome bonus!
– Spreadsheet with 20+ brands you can get ungated in using our recommended wholesalers (Value $100+)
03-Q4 Profits
How We Make 1/2 Of Our Income In Q4
Here's What You'll Get With This Course
In the Q4 Profits course I'll share my best strategies for making the most of the Q4 season.
We've purposely kept the guide to the point with no fluff. Don't let that fool you though. With almost 130 pages packed full you will discover everything we've learned over the past several years, when it comes to selling on Amazon during the Holiday Season.
Here's just some of what we'll be covering in the Q4 Profits Guide:
Our top selling categories during Q4
The importance of ranks in Q4 and what to do when there aren't any
Other things we focus on besides 'JUST' toys
When we will compete with Amazon
The secret strategy we use to add thousands of dollars to our bottom line every year
Extra ways to maximize your profits
The clues we find scattered throughout the retail stores
How we use the 'Hot Toy Lists' to sidestep the competition
And so much more!
See… We weren't kidding when we said we had you covered when it comes to buying, selling and profiting during Q4!
Q4 Profits is the ultimate guide to figure out how to get in on the most profitable season on Amazon!
04-Merchant Fulfilling Q4 Masterclass
Merchant Fulfilling Can Give You A HUGE Profit Boost, Especially During Q4…
…And I can help you be prepared!
Heres what you'll get in this masterclass:
Instant access to the masterclass replay
A printable notes workbook so you can follow along and take notes
A Bonus spreadsheet that gives examples of easy/lightweight items.
05-Quick and Easy Merchant Fulfilling
Quick and Easy Merchant Fulfilling
Ready to MASTER Merchant Fulfilling on Amazon?
We've been getting bombarded with requests for a new Merchant Fulfill course, so we decided it was time to give you the Quick and Easy process for merchant fulfilling!
There are times when Merchant Fulfilling makes more sense than using the FBA program, but it's not as straight forward as just throwing your items in a box and sending them to Amazon to handle the rest.
This course covers everything you need to be able to confidently list and ship your merchant fulfill products!
All while making sure your items are going to be profitable, before listing…
This course is made to get you up and running ASAP…you won't find any fluff or unneeded steps included.
If this Author or Course helped you make money or more money. It is really worth it if you go and buy his/her course. Get feedback and help by his/her community. The Author support is much more valuable than the course itself.
If our Site

helped you

as well. A small Donation is greatly appreciated.