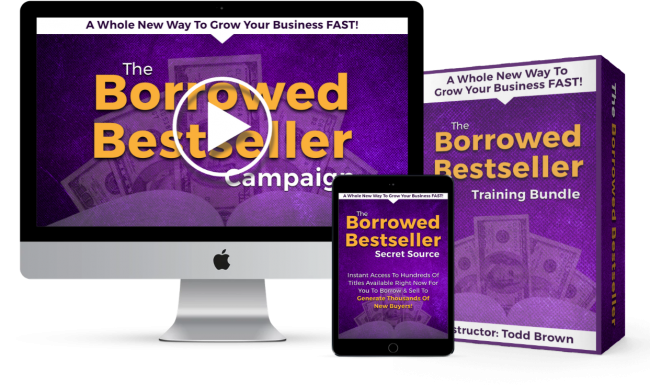 Todd Brown - Borrowed Best Seller
A Whole New Way To Grow Your Business FAST!
"Borrow A Bestseller"
And Get Flooded With
New Customers In Just Days!
Possibly The Easiest & Fastest Advertising Method To
Get Thousands Of New Buyers
YES! This will work for you
no matter what product or service you sell
Fill Your Business
With A Surge Of Fresh Buyers!
And you can do it for as long you want to continue to drive more and more sales.
Start small; start big. However you want.
The Borrowed Bestseller Campaign is the perfect advertising method for you if you're short on time, don't have a product yet, don't feel like creating a new product, or just want the hefty credibility-boost of "borrowing a best-seller".
This will get you new customer sales like nothing you've seen before.
And you can do this no matter what niche you're in… what product or service you sell… or whether you're a new entrepreneur or grizzled veteran.
You don't need an email list…
You don't need any joint venture partners…
You don't need a social media following…
And you don't need any special connections or anyone's permission or approval.
In fact, bestselling authors will love you for it.
Best part of all…
Launching a Borrowed Bestseller Campaign is so easy and fast…
What you'll discover inside:
The simple 2-page Borrowed Bestseller Campaign Funnel. You can set this up in less than 3 hours.
​My go-to secret source you can use today to borrow your first bestseller.
​​The best type of book to borrow which will bring you new customers galore!
​A simple way way to use your Borrowed Bestseller Campaign to fill any continuity program rapidly.
How to have your bestselling author give you a crazy-compelling free bonus to use in your Borrowed Bestseller Campaign! You'll be shocked at how easy this is!
​The price point sweet spot — how to price your borrowed bestseller so it sells like crazy!
​ADD THIS!: The one thing to include in your Borrowed Bestseller Campaign which ensures prospects buy from you and never Amazon!
​1 trick to leverage monster buzz and PR from the biggest publishers… to get even more customers with your Borrowed Bestseller Campaign!
…and much more!
I've only shared the Borrowed Bestseller Campaign once before with entrepreneurs paying $497 each to get access. (I really wanted to charge $997, but my COO convinced me otherwise.)
Right now, during this brief pre-launch, you can have instant access to everything for ONLY $49.
However, as soon as our full marketing funnel is ready to go live, the price will jump dramatically.
And I don't know about you… but… paying a lot more for the same thing doesn't make any sense to me.
So, if you want your own Borrowed Bestseller Campaign bringing you new buyers in the next handful of days, now may be the best time (with the biggest savings) for you to grab the bundle.
Fill-out the form below to get access now to everything…
If this Author or Course helped you make money or more money. It is really worth it if you go and buy his/her course. Get feedback and help by his/her community. The Author support is much more valuable than the course itself.
If our Site

helped you

as well. A small Donation is greatly appreciated.