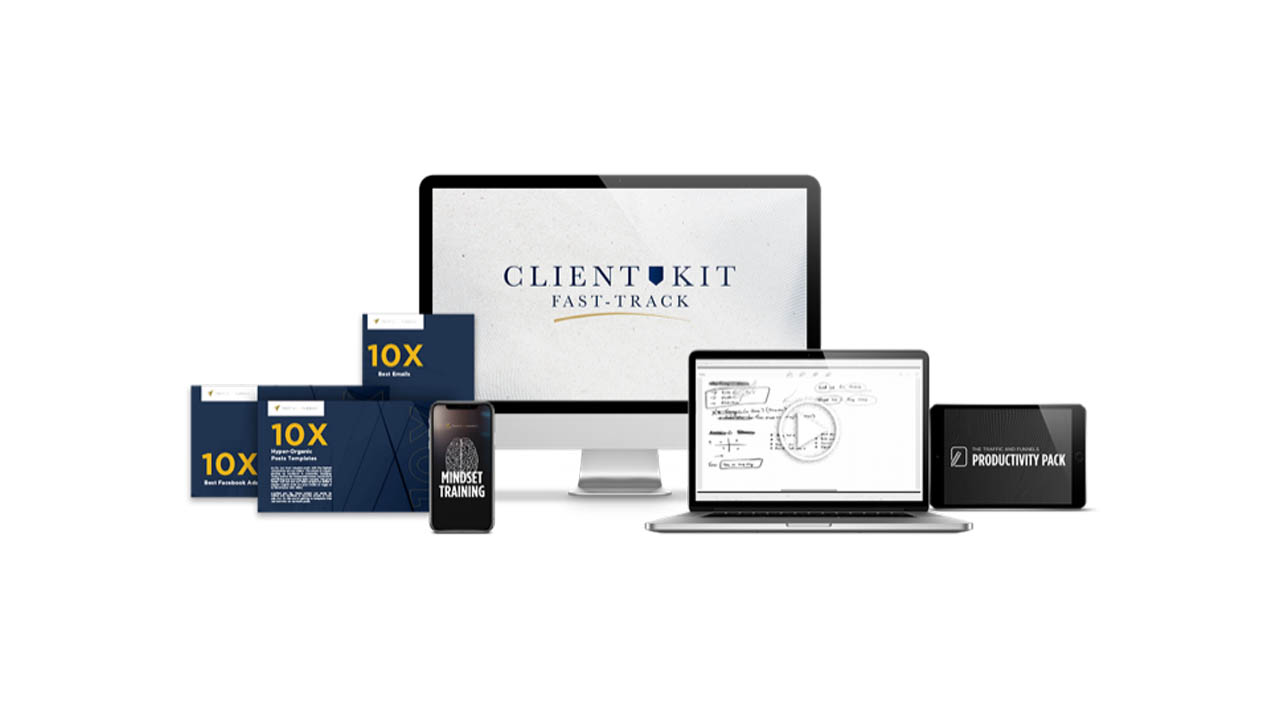 Traffic & Funnels – Client Kit Fast-Track
In 10 weeks you'll have all of the elements (copy, lead magnet, offer, tech setup, emails, and sales strategies) set up to build a 6-figure per year (then 6-figures per month) client business…
The '5-Pillar' System of The ClientKit™ Workshop
High Ticket Offer (sell for $3k to $5k)
Paid Traffic Campaigns (how to run Facebook ads to get high value clients)
Automated Systems (teach your business to run itself)
Advanced Sales Strategies (how to get people to pay up to $15k for your expertise)
The 10-week program unlocks access to the training modules to show you how to put together every single element of your high-ticket client program.
It also unlocks access to our platinum mastermind group to help you put all of the elements firmly (and correctly) in place.
And, coaching calls with us (once per week) to ensure you come out with a completed and premium product, powerful marketing systems, and all necessary elements to build your business without all the headaches (and costs) of doing it wrong…
Elements included:
how to target the perfect fit for your optimized & unique offer
email copy
how to track and optimize for profit
ad copy for filling your funnel
setting up your automation
crafting your high-ticket offer
landing page copy
delivering your client services with automated systems
setting up Facebook ads to generate a consistent stream of high-value clients
The investment? Just one or two new clients delivered from your new system (the one we will personally help you build and implement) will more than cover the investment…
And you'll retain your funnels, your paid traffic campaigns, and all of the strategies to keep attracting high value clients again and again…
Deliverables included in The ClientKit™ Workshop:
MODULE 1: Priming Yourself for Success (The Foundational Mindset and Habit Frameworks of a Multi-Millionaire High Performer)
MODULE 2: Defining Your Dream Avatar and Crafting an Irresistible Offer
MODULE 3: Opportunity Creation & Validation
MODULE 4: Sales Strategies to Turn Opportunity into Cash
MODULE 5: Paid Opportunity Acceleration
Bonus Vault
Platinum Mastermind – 10 weeks of access
Weekly Q&A Consulting – every week to keep you on track
Our clients who run through the ClientKit™ Workshop the get results. The ClientKit™ Workshop is currently open by invite only. If you'd like to talk about enrollment, apply for a free consultation.
If this Author or Course helped you make money or more money. It is really worth it if you go and buy his/her course. Get feedback and help by his/her community. The Author support is much more valuable than the course itself.
If our Site

helped you

as well. A small Donation is greatly appreciated.