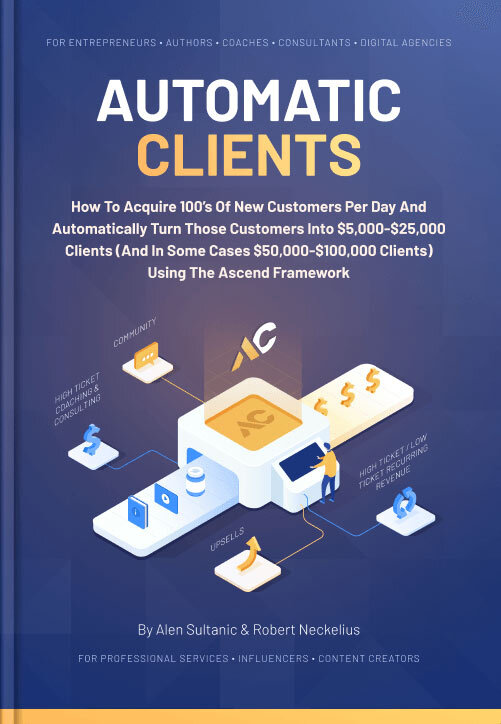 Alen Sultanic - Automatic Clients & Bonuses
Automatic Clients is a counterintuitive approach to selling high -ticket coaching and consulting programs. We create low-price high-value products and services which allow us to acquire customers at break-even (free) and then we ascend those customers into becoming high-ticket clients.
This is done through the ascension framework which uses the awareness bridge to turn low-dollar customers into $5,000+ high-ticket clients within 7 days of a sale on average.
AUTOMATIC CLIENTS IS A SHORTCUT
Before we created the Automatic Clients model – we were using webinars and other methods to acquire high-ticket clients, and eventually those methods stopped working due to the economics not backing out.
HERE'S WHAT THIS MEANS FOR YOU AND YOUR BUSINESS…
Every business is built on one thing and one thing only – its ability to generate revenue……And revenue is largely based on the ability to get customers.
Generating customers is also the #1 expense a business will incur in its quest for growth….… That's why we developed the Automatic Clients model to allow you to generate customers for free (while breaking even)……And in turn, turn those customers into high-paying clients. How far your scale is up to you.
If this Author or Course helped you make money or more money. It is really worth it if you go and buy his/her course. Get feedback and help by his/her community. The Author support is much more valuable than the course itself.
If our Site

helped you

as well. A small Donation is greatly appreciated.