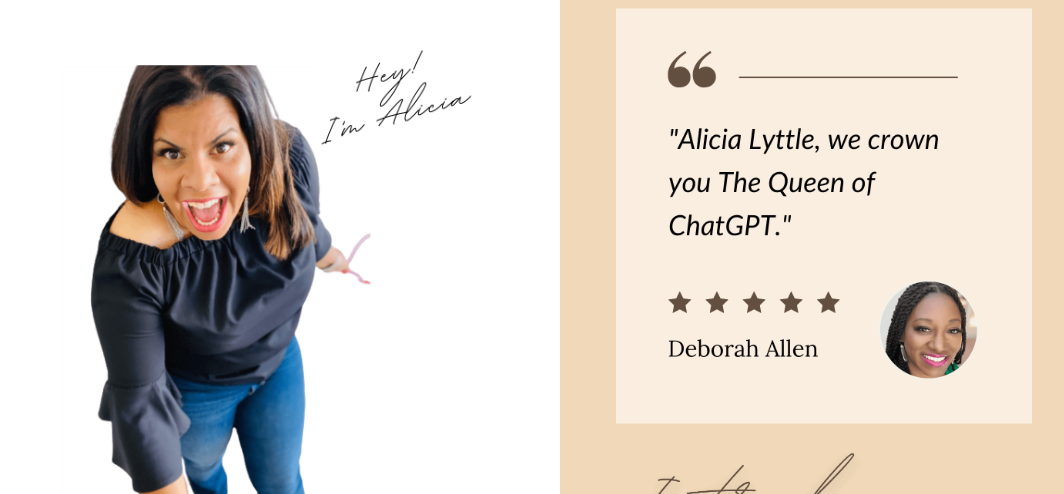 Alicia Lyttle - Agency AI Advantage
If you are a digital agency owner (or aspiring agency owner) that is just getting started or struggling to grow and scale their agency, then this is exactly where you need to be.
I'm Alicia Lyttle, the proud owner of a digital marketing agency that caters to all types of clients. Just like you, I'm always on the lookout for new and innovative ways to grow and scale my agency while helping our clients increase their profits.
But let's be real – it hasn't always been a smooth ride.
There have been countless times when my team and I would sit staring at blank screens or whiteboards, trying to come up with ideas. And even when we did manage to come up with a great plan, we often struggled to find the time and resources to put it into action.
And then, we needed to do the time-consuming task of creating a comprehensive marketing strategy that included social media content, email campaigns, press releases, and more. Often my team wasn't capable of taking this on, and I personally didn't want to do it, but outsourcing or hiring additional staff to get things done isn't always feasible.
However, things took a turn on November 30, 2022. That was the day that ChatGPT launched and transformed the way we do business. With ChatGPT, we no longer stare at blank screens or spend hours in meetings that don't lead to anything.
Here's What's Included:
Step-by-step, over-the-shoulder video training on how to leverage Ai in your agency.
We will show you how to use AI to master these areas:
Content Creation  – Want to create content that makes your clients feel like they hit the jackpot?  With Ai, you can create captivating blog articles, buzzworthy press releases, and more, in a fraction of the time. Say goodbye to tedious hours and hello to content that exceeds your clients' expectations.
Reputation Management – Want to be a superhero to your clients and keep their online reputations squeaky clean? Say hello to AI-powered online reputation management! With AI, you can say goodbye to headaches and keep your clients' reputations spotless. And let's be real, when you save their reputations, they'll see you as the top-notch agency you are.
Social Media – Say goodbye to social media content drudgery and hello to AI-powered writing assistants! With AI, creating devilishly good social media content is a breeze. Your clients will be blown away by the engaging content you create, and they'll wonder what kind of sorcery you've been using.
Marketing Strategies– Ready to step up your marketing game and leave guesswork behind? Let AI be your secret weapon! With AI, you can create marketing strategies that actually work. Say goodbye to lackluster results and hello to increased conversions, higher ROI, and satisfied clients who will wonder how you got so smart.
Writing Proposals & Agreements-  Say goodbye to tedious proposals and hello to AI-powered proposals that will have your clients signing on the dotted line faster than you can say "awesomeness!" With AI, you can create proposals tailored to your client's needs in no time, leaving you more time for the fun stuff.
Email Marketing– Say goodbye to generic emails and hello to AI-powered emails that will knock your clients' socks off! With AI, you can create emails that leave your clients wondering how you read their minds. Your clients will be eagerly awaiting your next email, and they'll be begging you for more (email campaigns, of course).
Product Promotions & Special Offers – Want to create product promotions that make your clients' competitors green with envy? Let AI do the heavy lifting! With AI, you can create irresistible offers that leave your clients' customers clamoring for more. Say goodbye to lackluster promotions and hello to promotions that put your clients' products in the spotlight. With AI, your clients will be riding the wave of success, and they'll have you to thank for it!
BONUSES
SOP – Creating a Press Release With ChatGPT  Not sure how to write a press release for a client? With our step by step SOP,  you'll learn to craft compelling press releases with the help of ChatGPT that'll have journalists and bloggers begging for more. Say goodbye to boring press releases and hello to ones that'll earn your clients the media coverage they deserve. With ChatGPT and our awesome SOP, you'll be a press release pro in no time!
Copywriting Framework with ChapGTP:   Learn how to use ChatGPT to craft copy in specific copywriting styles that are not just compelling but downright irresistible. Say goodbye to boring copy and hello to copy that'll have your clients' competitors green with envy. With ChatGPT and our expert training, you'll be a copywriting pro in no time!
How to Use ChatGPT to Get New Clients:  Learn how to create personalized pitches, craft engaging social media content, and more. Say goodbye to struggling to find clients and hello to a steady stream of new business. With ChatGPT and our expert training, you'll have clients knocking down your virtual door in no time!
If this Author or Course helped you make money or more money. It is really worth it if you go and buy his/her course. Get feedback and help by his/her community. The Author support is much more valuable than the course itself.
If our Site

helped you

as well. A small Donation is greatly appreciated.