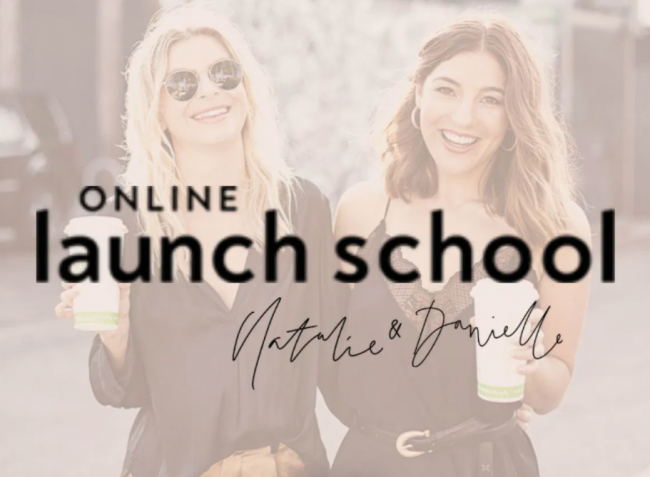 BossBabe - Online Launch School
Firstly, when we say launch, we're not just talking about a business launch, even though that might be one of the reasons you join us in Online Launch School.
You might have already started your business and be looking to scale it, by launching a new product or service.
Or maybe you really want to give your bank balance a boost, by re-launching a product or service you already have.
Perhaps you have a membership or program that opens and closes its doors periodically – this counts as launching, too...
...basically: a launch is a period of enrollment for or sales of your
product or service - nothing more, and nothing less.
So, if any of these situations sound like you, let's dive a little deeper to
understand if OLS (Online Launch School) is a fit for you, shall we?
IS THIS PROGRAM
FOR ME?
Great question. Lemme quickly go over the 5 types of people Online Launch School IS for so you can figure out if it's a fit…
YOU DON'T EVEN KNOW WHAT A LAUNCH IS.
Online Launch School is for you if you're an entrepreneur-to-be who is armed with a killer idea for a product or service, but you have no idea what to do next. You're excited to learn more about launches so you can get your first product/service out into the world – you're oh so ready to birth this business baby and serve as many people as you can!
YOUR LAUNCHES AREN'T MAKING YOU ENOUGH SALES.
Your launches are filled with more stress than success. Your product/service is not the problem… your problem is making money from them. You can't seem to hit your revenue goals no matter what and how hard you try, and you're ready for that to change – ASAP.
YOUR LAUNCHES ARE WORKING BUT YOU'RE EXHAUSTED.
You launch your product or service periodically and throw everything you've got at those launches – each and every time. You're making sales but the problem is, you're completely and utterly... mentally and physically... exhausted! All the time! You're looking to find a better way of doing things. It has to be easier than this, right?!
YOU FEEL LIKE YOU'VE BURNED OUT YOUR CURRENT AUDIENCE.
Your launches were going so well... until they weren't anymore, when you realized you'd sold your product/service to almost everyone in your audience. You want to keep the momentum going and for your launches to get bigger and better than ever before… but you're not sure how to do that.
YOUR LAUNCHES ARE WORKING BUT YOU'RE READY TO DELEGATE THEM TO YOUR TEAM – AND YOU WORRY THAT THEY'LL FAIL IF YOU DO.
Having to hire seems like a great problem to have, until you realize you can't scale without people who can do things as well as (or better than) you can. This course isn't for you, but it is for your new team member – give it to them and step aside, we'll take it from here for you.
... to sum things up real quick: Online Launch School IS for you if you have a coaching, membership, or service based business – AND it's also for owners of product-based businesses. Do you fit into any of these 5 categories above? If so, it looks like you'd be a perfect fit for this program, right?
If this Author or Course helped you make money or more money. It is really worth it if you go and buy his/her course. Get feedback and help by his/her community. The Author support is much more valuable than the course itself.
If our Site

helped you

as well. A small Donation is greatly appreciated.