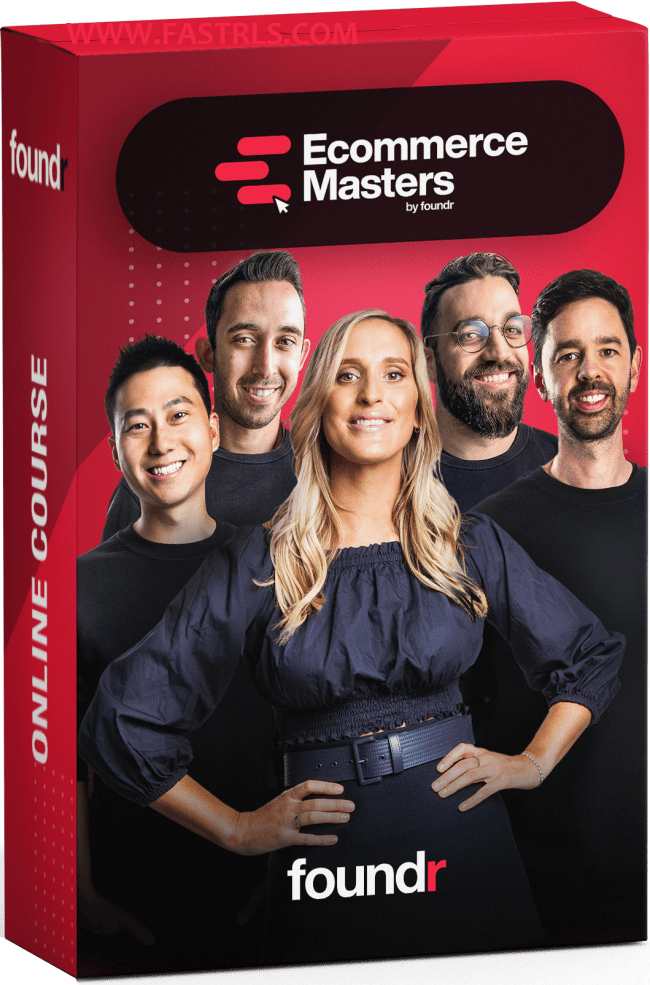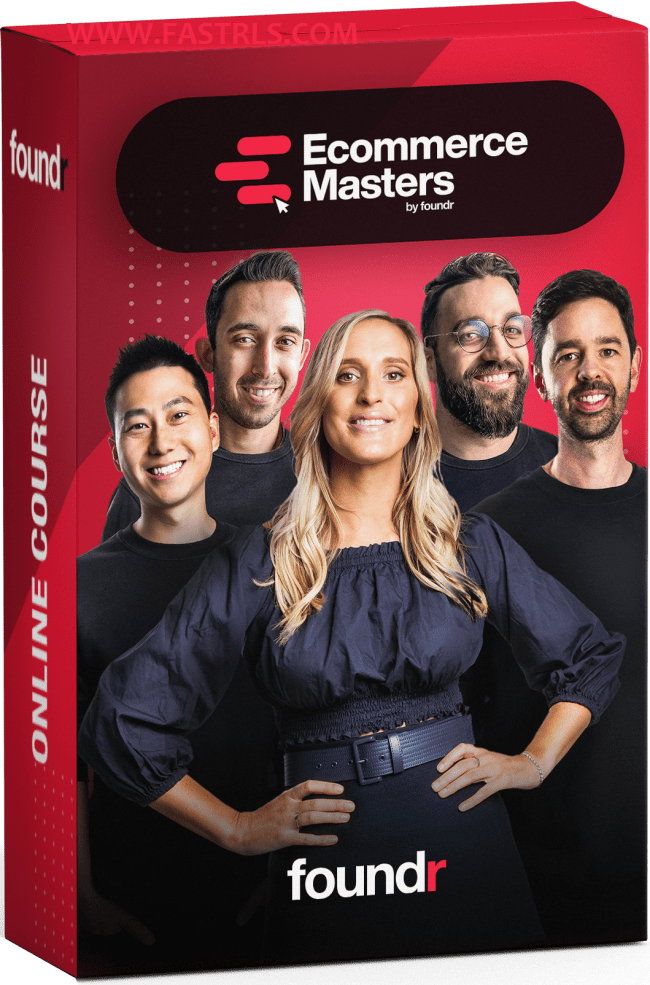 Foundr - Ecommerce Masters 2020
5X BEHIND-THE-SCENES
STRATEGIES FROM THE WORLD'S
FASTEST-GROWING ECOMMERCE BRANDS
THIS IS YOUR CHANCE TO LEARN FROM THE BEST
Which is why we decided to do something we've never done and create this one-of-a-kind advanced ecommerce program.
Instead of using just one "Know-it-all guru" who simply pretends they have all the answers…
We've brought in 5 world class ecommerce founders and had each one do a deep-dive into their very own "scaling superpower". It's like getting 5 different advanced ecommerce courses all in one 9 hour monster course!
And just one could double or triple your business. But just to be clear…
IT'S NOT ONE OF THOSE COURSES THAT PROMISES YOU SOMETHING FOR NOTHING. DEDICATED WORK AND FOCUS IS INVOLVED…
It's NOT about hundreds of complicated strategies or how to "hack" the newest bright and shiny object…It's NOT about how to just run Facebook ads and have this inflated revenue number but
little to no profit to show for it…
And to be honest, It's NOT just about revenue…
Instead this course is about growing your business, impact, and take home profit so you can both make a bigger difference and can finally live the kind of freedom-driven life you dreamed of when you first became an entrepreneur.
ABOUT FOUNDR'S NEW COURSE:
ECOMMERCE MASTERS
"THE 5 CORE-DRIVER METHOD FOR SCALING TO 7 FIGURES"
INCREASED PROFIT MARGINS
More profit per transaction. Do this and you can both scale faster and take home more for yourself. Inside this course the "5 Core Drivers" are all synchronized around one goal, increasing sales while increasing profit margin at the same time.
7-FIGURE SCALING MADE SIMPLE:
No more overwhelm or feeling like you need to try everything. Ecommerce Masters was designed for you to pick the core driver which best aligns with your current business and use it to scale. Just one of them can be used to double or triple your sales.
DIVERSIFY REVENUE & REDUCE RISK:
Feel too reliant on Facebook for your store revenue? Tired of their constant ad disapprovals or unannounced changes. Take control of your revenue streams by using the other core drivers and reduce your risk and headaches.
SIMPLE, ACTIONABLE, & PROVEN
SCALING STRATEGIES FOR ECOMMERCE GROWTH
DRAMATICALLY INCREASE YOUR AOV (AVERAGE ORDER VALUE).
NEGOTIATE BETTER MARGINS ON YOUR PRODUCTS.
SELL MORE TO YOUR EXISTING CUSTOMERS.
AND KEEP MORE OF WHAT YOU MAKE.
SCALING WITH FACEBOOK ADS WITH
NICK SHACKELFORD:
Nick is a world class expert in paid media and a multi-time founder specializing in scaling stores through Facebook Ads. All in, he's spent upwards of $85M in Facebook Ads across multiple industries!
Nick has been involved with over 150 direct to consumer brands, many being in the $10M-$50M range. He currently operates three businesses that feed into one larger mission of empowering entrepreneurs to build their dreams. Oh, and he's also the one who popularized the fidget spinner!
SCALING WITH ADVANCED INFLUENCER MARKETING WITH GRETTA VAN RIEL
Along with running a leading Influencer Marketing platform that's already linked more than 8,000 influencers to brands, Gretta has helped pioneer influencer marketing to scale 4 of her own brands beyond 7-figures in just 4 years flat. She's won the Shopify Build a Business award, had $1M dollar days, and knows the influencer game better than anyone we've ever met.
SCALING WITH SUCCESSFUL NEW PRODUCTS WITH ROB WARD
Rob successfully bootstrapped Quad Lock from 0 to $9M dollars in just four years and today has sold millions of units shipping to over 100 countries. With more than 80 different sku's, his products are featured on the Apple website and by people like Kylie Jenner and Olympic cyclist Chris Froome.
He's a Shopify Build A Business Winner and an absolute genius at scaling stores using new products. One of the biggest leverage points for any online business!
SCALING WITH ADVANCED OPERATIONS, MANUFACTURING, & SUPPLY CHAIN WITH RICH LI
Rich is the co-founder of luggage startup July and online furniture retailer, Brosa. Within nine months, July secured $10.5M in funding and is on track to achieve $5M of revenue in its first year of operations. Meanwhile Brosa, has become Australia's biggest online furniture retailer worth over AU$50M.
As a Chinese native, Richard has deep networks in China and wider Asia and has supply chain capabilities and knowledge unlike anyone we've ever seen. He'll help you set up your operations so scaling is streamlined simplicity instead of mass chaos.
SCALING WITH MULTIMILLION DOLLAR ECOMMERCE EMAIL MARKETING WITH CHASE DIMOND
Chase has sent hundreds of millions of emails for his 7 and 8 figure ecommerce clients as well as his own brand and generated more than $20M in email attributable revenue. He's helped brands like The Chive, IBEX, Original Grain, TUSHY, and Vinyl My Please all grow their business using email.
Armed with unique experience in almost every aspect of email (from ecommerce email marketing to cold email marketing to even building and scaling email newsletters and everything in-between), he'll help you maximize the #1 revenue generator for all online businesses, your email list.
WHAT YOU'LL GET WHEN YOU TRY ECOMMERCE MASTERS TODAY
5 EASY-TO-FOLLOW TRAINING MODULES
62 VIDEO LESSONS
MORE THAN 9 HOURS OF IN-DEPTH ADVANCED ECOMMERCE TACTICS
PROFESSIONALLY PRODUCED WORKBOOK
ON SCREEN SOFTWARE DEMONSTRATIONS
This group allows you to network in a private mastermind where you can share contacts, get help and learn the latest scaling hacks and tips of what's working right now. At the end of the 12 months you'll be offered the chance to stay in the group at $100 per month.
In Outsource Your Influencers, Gretta reveals her exact systems, documents and strategy that she uses in her own multi-million dollar ecommerce stores. This will allow you to outsource everything to your VA! Simply get them to watch this lesson and use Gretta's cheat sheets.
Inside this bonus you'll get the tried and true methods for quickly creating product pages that actually convert! After selling millions of products and seeing the conversion data behind what works and what doesn't, Rob Ward has perfected the process for creating these kinds of pages. Now it's yours too!
Having sent millions of ecommerce emails, Chase Dimond knows the massive difference a good subject line can make on sales. In this bonus you'll get his own swipe file of the top 20 highest converting subject lines for browse abandonment emails. Start saving sales today!
Want people to raise their hand and tell you "I want that!" before your product is even available? This one "Back-In-Stock Hack" from Chase Dimond is the same one Gretta Van Riel used to achieve her first $1 million dollar sales day with The 5th Watches!
Nothing is worse than having your brand, product info, and all your hard work instantly ripped off by some overseas manufacturer. In this "Theft-Proof Your Idea" bonus, Richard Li teaches you how to properly protect yourself when disclosing product information. Comes with templates for manufacturer NDA's and Brand Authorization letters!
When you spend $85 million dollars on ads on a single platform like Facebook, you learn a thing or two about what works and what doesn't. This bonus is Nick Shackelfords own private swipe file for high converting creative that's worked over the years. This alone could help you create a single ad that could scale you to 7-figures and beyond!
If this Author or Course helped you make money or more money. It is really worth it if you go and buy his/her course. Get feedback and help by his/her community. The Author support is much more valuable than the course itself.
If our Site

helped you

as well. A small Donation is greatly appreciated.