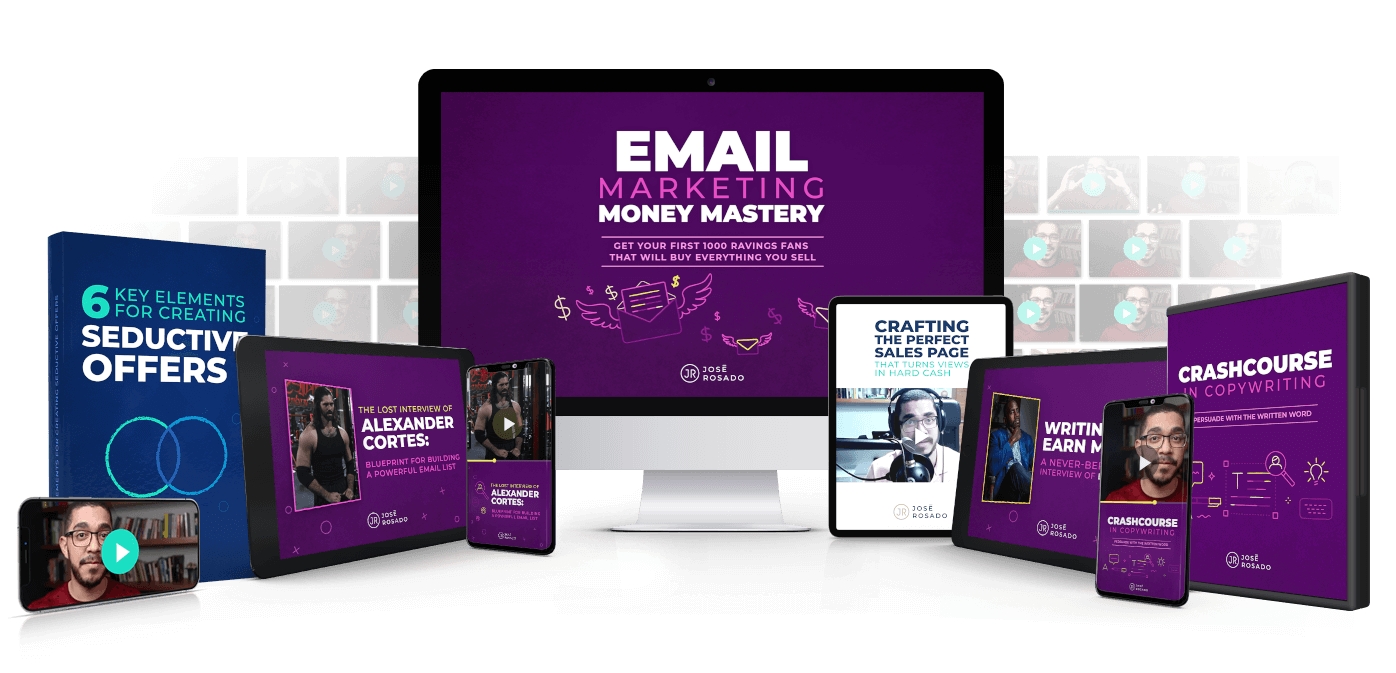 Jose Rosado - Email Marketing Money Mastery
The Exact System I Use To Make Thousands Of Dollars A Month By Typing Some Words And Clicking A Big, Red Send Button.
Let me show you the exact system that makes me thousands of dollars a month like clockwork.
I'm Jose Rosado. Husband and father, living and working in the Dominican Republic.
Despite the barriers my country imposed on online businesses, I bring in well over $20,000 with a simple email marketing campaign that takes me 2-3 hours to write.
And my tactics have helped my students and clients sell hundreds of thousands of dollars using email marketing as their go-to online marketing tool.
Imagine Having A System That Increases Your Income Running On Auto-Pilot While You're Taking A Nap – It's Like Having Your Very Own Minions
I'm not a native English speaker.
I don't have access to online payment processors like Stripe.
Despite these "limitations," my piggy bank is thicc – bordering diabetes. My loved ones are taken care of, living comfortable lives, with enough financial certainty to enjoy life and save for the future.
In November 2018, when I first showed up to grow my email list, I didn't know what to write about nor where to start.
Back then, I wrote all my content in Spanish and used Google Translate to get the English right.
Nerve-racking...
If you think writing is hard when you barely speak the language... try selling in a second language!
Just a month after I started, my email list was 1,000 subscribers strong.
And, if you keep reading I'll show you a path to achieve this.
Introducing: Email Marketing Money Mastery
A Proven System To Seduce Your First 1000 Raving Fans Who Will Buy Anything You Sell
This course comes In Three Parts:
1: Fundamentals you need to master to make your email marketing work while you're sleeping.
2: Advanced Strategies and tactics I've used (and so have my students) to hit "send" and then watch my phone blow up with notifications of people buying.
3: Bonus Vault to supercharge your email marketing and launch your income to the moon.
What You'll Discover: Fundamentals
The ultimate email secrets to turn subscribers into obsessed fans
The best email marketing tool I've ever used
How often should you send email to your list
Golden email marketing automation tricks to make money on auto-pilot while you sleep
The exact strategies to get your first 100 subscribers
How to never run out of ideas (what to say in your emails)
The shortcuts to write emails 2x faster
How often should you sell in your emails
Setting up a landing page that FORCES people to subscribe to your newsletter
The Advanced Tactics I'll Show You
Advanced tactics to get your 1000+ subscribers and more
6 shockingly simple tips for writing an attention-grabbing subject line
The 3 bullet-proof concepts you must apply to maximize your sales
How to hijack people's attention so that they open your email
How to ethically lure people to join your email list
Autopilot Mode: have your email marketing tools do your dirty work
How often should you sell in your emails
Landing page tricks to persuade people to subscribe to your email list even a nobody can use
What You'll Exactly Get
✅ Email Marketing Money Mastery 80-page guide
✅ Anatomy Of Irresistible Sale Pages guide
✅ 9 Step-by-Step Videos Tutorials Revealing How To Automate Your Email Marketing
Choose Your Package
🚀 Essential
📀 Email Marketing Money Mastery guide
🎥 Email Marketing Money Mastery video course
✍️ Anatomy Of Irresistible Sale Pages guide
🌟 Advanced
🚀 Everything in the Essential Package
Plus:
☎️ One 30-min one-on-one consult call
🖥 Access to the WiFi Money Hub (my private discord channel)
So you know what to do now!
Hit the "I Want This" button to get Email Marketing Money Mastery now before the price goes up.
If this Author or Course helped you make money or more money. It is really worth it if you go and buy his/her course. Get feedback and help by his/her community. The Author support is much more valuable than the course itself.
If our Site

helped you

as well. A small Donation is greatly appreciated.