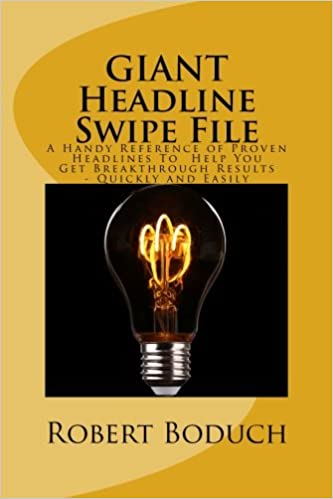 Robert Boduch - GIANT Sales Letter Writing Swipe File
Grab Thousands of PROVEN Winners To Create Your Own Blockbuster Sales Letter Headline - In Just Minutes.
Over 2,500 Proven Ways To Instantly Create ATTENTION-GRABBING HEADLINES For Any Ad, Sales Letter, or Website That Instantly Reaches Out To Prospects and Customers and Pulls Them Inside.
How many of these golden nuggets would you like to have at your fingertips?
This new edition features headlines from some of the best copywriters of all time -- including Eugene Schwartz and Gary Halbert.
This reference guide places the number one secret to advertising success right in your hand.
Now you can tap into a rich vein of pure gold – over and over again -- with almost no effort at all.
What makes one ad (and business) succeed… where another fails miserably?
It's NOT the product. It's NOT where or how you advertise. And It's NOT your price.
One Thing that can kill your results is the headline your run at the top. Nothing else in your ad is as important as having an attention-grabbing headline. That's where it all starts. See… your headline either pulls prospects and customers in… or it pushes them away.
So if your headline doesn't do the job -- nothing else matters.
Find a headline that works and your business can soar to new heights because you'll reach more of your targeted customers. But use the same kind of headline most small businesses do and and you could easily go broke.
But here's the thing…
You don't have to rack your brain and test your creativity HOPING to come up with a winner. Doing it this way can give you a migraine -- unless you're already an experienced headline writer.
It's much easier to simply "model" success. And that's where this resource comes in handy.
This mammoth headline swipe file gives you more winning ideas than you can ever use in one business. Plus… you get headlines from the greatest copywriters of all time including...
Gary Halbert, Gary Bencivenga, Jay Abraham, Ted Nicholas, Joe Karbo, Dan Kennedy, John Caples, John Carlton, Joe Vitale, Eugene Schwartz, Bob Bly, Brain Keith Voiles, Jeff Paul, Jerry Fisher, Steve Manning, Raymond Aaron, Michael Kimble, Mark Nolan, Luther Brock, Galen Stilson, Rene Gnam, Jeffrey Lant, Melvin Powers, Russ Von Hoelsher, and dozens more.
You get headlines used by some of the most successful direct marketing and sales organizations of all time.
I'm talking about companies like Boardroom, Rodale, Doubleday, Bottom Line, Nightingale/Conant, Reader's Digest, Publishers Clearing House, Executive Books, Hume, Day-Timers, Career Track, Sharper Image, The Ken Roberts Company, Marketing Magazine, and many more.
You'll want to have this instant headline starter right at your fingertips. You want something you can access at a moment's notice… so you can easily create a stellar, moneymaking headline -- on demand.
You get more than 150 pages of non-stop, cash-generating headlines.
You'll love the ideas you get here… and it's easier to come up with your own variation of a surefire winner -- in just minutes! Killer headline writing doesn't get any easier. Try it and see for yourself.
If this Author or Course helped you make money or more money. It is really worth it if you go and buy his/her course. Get feedback and help by his/her community. The Author support is much more valuable than the course itself.
If our Site

helped you

as well. A small Donation is greatly appreciated.