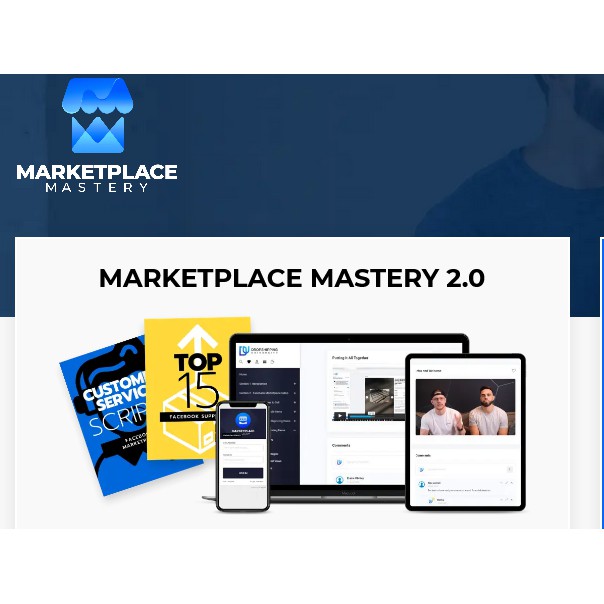 Tom Cormier - Marketplace Mastery 2.0
Marketplace Mastery 2.0 – Learn our step-by-step Facebook Marketplace Dropshipping formula – taking you from complete beginner to earning an income online in a matter of days.
AN IMMERSIVE LEARNING EXPERIENCE
Build a highly profitable Facebook Dropshipping business in days
Distinguished Dropshipper, Tom Cormier (eCom Tom), teaches you everything he knows in this 7 hour class, reshaping the way you earn income. Dive into this emerging opportunity and leave the class with a fully operational Facebook Dropshipping business.
Part 1: Marketplace Fundamentals
Learn the end-to-end skills of Facebook Marketplace Dropshipping, from securing the shipping option to finding the best suppliers. During this part, Tom reveals his top 15 verified Dropship suppliers list.
Part 2: Listing High-Profit Items
In the second part of Marketplace Mastery, Tom demonstrates his techniques for choosing hot selling products. He teaches you how to ensure that the products will continue to sell over time with substantial profit.
Part 3: Developing Your Store
In Part 3, Tom guides you through his systematic process for developing a semi-automated Facebook Dropshipping store. You'll finish the class with a scalable opportunity and high income potential.
BUILD THE SKILLS TO DIVERSIFY YOUR INCOME
Level up your Dropshipping skills
During Marketplace Mastery, you'll learn the full set of Marketplace Dropshipping skills Tom Cormier uses to sell thousands every month. This class takes you to new heights no matter your eCommerce experience level.
The Marketplace Dropshipping Model
Tom breaks down the fundamental concepts of Facebook Marketplace Dropshipping, and explains the advantages of this new business model.
Facebook Account Setup
Tom walks you through his real-time process for properly setting up your Facebook Marketplace account to begin Dropshipping.
The 'No-Shipping Option' Solution
If you don't have the shipping option available on your Facebook Marketplace account, Tom's solution easily allows you to circumvent this issue.
Top 15 Verified Suppliers List
Tom's curated list of 15 handpicked suppliers allows you to find the most profitable products to start Dropshipping immediately.
Over the Shoulder Item Research
Watch Tom as he demonstrates his real-time item research process. You'll learn how to identify the best selling items, and the ones to avoid.
Masking Supplier Identity
Tom shares his tips for keeping Dropship suppliers identity a secret to your customers – a common concern for new Marketplace sellers.
3 Pillars of High-Performing Listings
In this section, you'll learn how to sell your items fast and for higher profit with Tom's proven formula for titles, photos, and descriptions.
A-Z Order Fulfillment
Tom teaches you step-by-step how to place Dropship orders, upload tracking, communicate with customers, and ensure timely deliveries.
Scaling & Automating Your Store
Take your business to new heights with Tom's profit maximizing strategies including tax exemption, cash back, and leveraging outsourced workers.
ONE COURSE. PERFECTLY STRUCTURED
Learn through a step-by-step curriculum
Drastically improve your skills through in-depth video lessons, bonus guides, and community feedback. Its carefully developed curriculum and unforgettable learning experience is designed to help you earn more income online.
​Marketplace Mastery 2.0 Curriculum
Module 1: Introduction
Module 2: Facebook Marketplace Setup
Module 3: Sourcing Items To Sell
Module 4: Finding Profitable Items
Module 5: Managing And Repricing Items
Module 6: Listing And Relisting Items
Module 7: Processing Sales And Tracking
Module 8: Customer Service
Module 9: Advanced Strategies
Bonus: Software Toolkit
Bonus: Documents & Sheets
If this Author or Course helped you make money or more money. It is really worth it if you go and buy his/her course. Get feedback and help by his/her community. The Author support is much more valuable than the course itself.
If our Site

helped you

as well. A small Donation is greatly appreciated.